Report: Lionel Hollins out as Grizzlies coach
Grizzlies coach Lionel Hollins won't have his contract renewed, according to a report.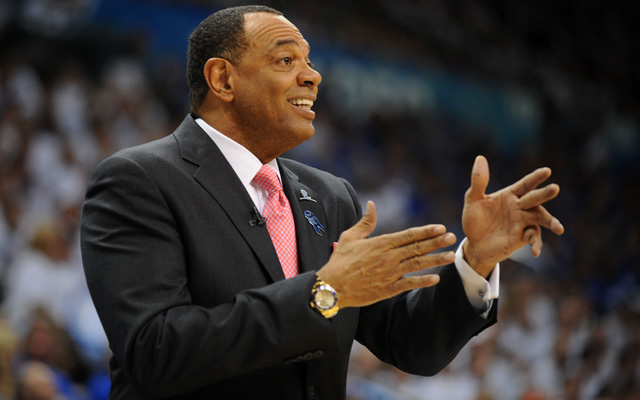 Lionel Hollins is officially available. 
According to the Memphis Commercial-Appeal, Hollins was informed that his contract would not be renewed for next season. 
Hollins completed a season in what was the most successful in Grizzlies history, guiding the team to 56 wins and the team's first-ever appearance in the Western Conference finals. 
Recently Hollins had expressed a desire to stay with the Grizzlies, but there has been a growing tension and rift between him and the new front office appointed by new owner Robert Pera. Hollins famously bristled over the trade sending Rudy Gay to Toronto, saying, "When you have champagne taste, you can't be on a beer budget."
Hollins, 59, has had three different stints as head coach of the Grizzlies. He was hired in 1999 while the team was still in Vancouver, then appointed interim head coach during the 2004-05 season, and he was hired full-time most recently in 2009. 
During his three stops, Hollins accumulated a record of 214-201 with the Grizzlies. However, in his most recent tenure, he went 196-155. 
The Nets have reportedly expressed interest in Hollins, as have the Nuggets and Clippers. 
Hollins is a former player who spent 10 seasons playing for the Trail Blazers, 76ers, Clippers, Pistons and Rockets. 
Green left the Warriors' opening night game vs. Houston with what the team is calling a knee...

Portis left Nikola Mirotic with facial fractures and a concussion after an altercation in Tuesday...

Bill Reiter and Reid Forgrave react to Hayward's injury and discuss Celtics, Cavs, Rockets...
In his Cavs debut, Rose's timely cut opened up Kevin Love for a 3-pointer which sealed the...

If the 21-year-old wing takes the next step, Washington could be much more dangerous this time...

Minnesota is another team poised to make the leap from pretender to contender