Report: Longtime NBA referee Dick Bavetta to retire at 74
After nearly 40 years officiating in the NBA, 74-year old Dick Bavetta is reportedly going to retire.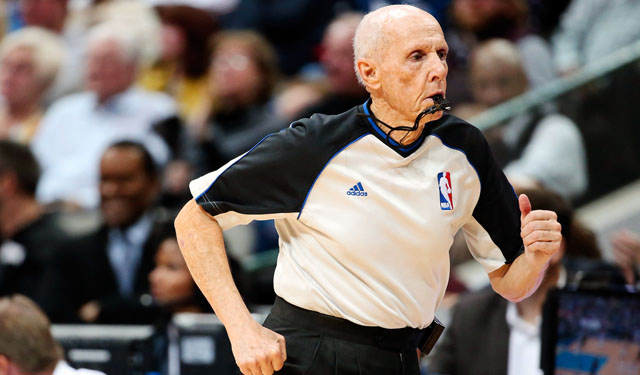 More Offseason Analysis: Coaching changes, news | Free Agency | Draft
NBA referee Dick Bavetta made his officiating debut in 1975. He has seen just about everything you can imagine on a basketball court. He has refereed championship-clinching games, broken up brawls, watched milestones for players and coaches be met, and he even officiated a game all by himself in the 1980s when the other referee in the game broke his leg in a collision. Bavetta ended up having to break up the infamous double choke attack by Larry Bird and Julius Erving in that game.
It looks like nearly 40 years of service officiating the NBA is long enough for the veteran. According to Aileene Voison of the Sacramento Bee, Bavetta will be retiring at the age of 74, although it's not official just yet.
I am hearing that longtime NBA veteran referee Dick Bavetta is retiring. Not official yet though, according to NBA sources. Bavetta is 74.

— Ailene Voisin (@ailene_voisin) July 29, 2014
Nobody has officiated more games than Bavetta in NBA history. Back in 2006, he surpassed Jake O'Donnell with his 2,135th game as an NBA referee. Even in to his 70s, he has been able to keep his body in great shape by being an avid runner and making sure his feet have more than enough padding to cushion the punishment they take on the hardwood. Now that he'll have all year to concentrate on it, perhaps he can make his race against Charles Barkley an annual event for charity.
Warriors' forward doesn't understand the reasoning behind the all-too-common double technical...

Hardaway Jr. gave a 'safe' call like he was an umpire in baseball

Barnes hits the trey with less than a second left to lift Mavericks to dramatic 95-94 vict...
Kevin Durant was once again back in Oklahoma City

Gregg Popovich has never seen an injury lead to the issues that Kawhi Leonard has been fac...

Kobe Bryant, of course, had his 81-point game against Rose and the Raptors back in 2006