Report: Luol Deng unlikely to re-sign with Cavaliers
The Cavaliers made a deal to bring in Luol Deng. And it might only be a rental for a team headed back to the lottery. Whoops.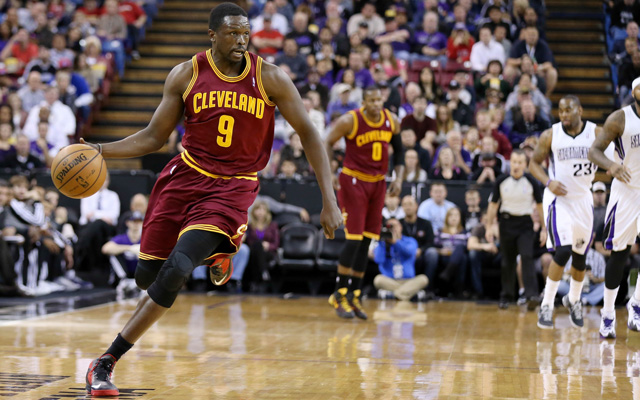 It's becoming more and more obvious what the official Cleveland Cavaliers motto should be: welp. 
The Cavs made a deal a few weeks ago to acquire Luol Deng, giving up Andrew Bynum and a draft pick to secure him. It appeared to be a very solid trade for a young team in desperate need of some character, and one that might be able to spark the Cavs for the second half of the season.
Instead, they're 5-10 since the trade, and 2-8 in their last 10, falling to 17-33 on the season and making no move toward postseason contention. 
So where does that put them with Deng, who is set to be a free agent this summer? Not in a good place, according to ESPN.com:
And the general toxicity in the air around this team — where rumblings of player discontent with Mike Brown are getting louder by the day — makes you wonder if they have any hope of re-signing newly acquired (and shell-shocked) Luol Deng in free agency.

That's right: What was supposed to be a season exciting enough to make LeBron James think seriously about leaving Miami to come back to the Cavs has descended into such farce that sources close to the situation are already saying that there's little-to-no chance Deng will agree to stay once he hits free agency.
What the Cavs are looking at instead is a three-month rental of a player that cost them future assets, only to head back to the lottery. Good job, good effort. 
Deng reportedly turned down a three-year, $30 million deal from the Bulls, so he'll be looking for a bigger deal in free agency. His concern has to be the Cavs damaging his market value.
But the Cavs obviously acquired Deng as a future building block piece, not just a player to spark them this season. Deng has said he's "open" to talking about an extension, but that kind of seems like just a courtesy at this point.
"I'm very open to sit down to talk," Deng said. "At the same time, I'm OK with waiting until the summer."
And nobody would blame him for that. 
Barkley spoke to the NFL Today crew about the response the president received in his home...

The restricted free agent has a deal in place that will keep him with the Bulls after a st...

James' support continues his trend of social activism on social media
The newly-acquired All-Star thinks the addition of Anthony boosts the Thunder in the NBA's...

The Knicks were asking for the house in discussions for Carmelo Anthony

Steve Kerr has given his response to Donald Trump in writing