Report: Magic could have interest in trade for David Lee
We're not sure why, but reportedly the Magic could be interested in a swap of Arron Afflalo for David Lee.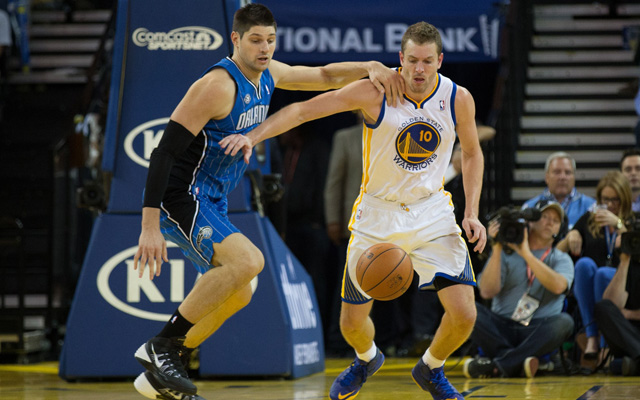 More Offseason Analysis: Coaching changes, news | Free Agency | Draft
The Bay Area News Group reports that the Magic could be looking to trade for Warriors forward David Lee. 
But if the Magic go with a perimeter player, that could be good for the Warriors for two reasons.

1. Orlando will still have a need for a proven veteran in David Lee who knows what it takes to change the culture of a locker room and make a team competitive.

2. Aaron Afflalo could be expendable. Drafting a guard will give the Magic its frontcourt of the future: the rookie it drafts plus last year's first-rounder Victor Oladipo.

As for Lee to Orlando, Glen Davis started 43 games for the Magic before being bought out and signing with the Clippers, where he became the eighth man. And when he left, Tobias Harris got several starts at PF. That's how much the Magic could use Lee. He and Nikola Vucevic wouldn't be a great defensive pair. But a perimeter trio of Smart/Oladipo/Moe Harkless should be able to do some things on the defensive end.

Lee could in essence be a one-year rental for the Magic. After next season, he becomes a chunky expiring contract Orlando could use. At most, two years of that $15M+ salary is probably something Orlando would swallow if it means it can book 18 and 10 every night.
via Orlando a Possible Destination for David Lee? – Marcus Thompson II.
So... the Magic, with a wide swath of young talent that has consistently improved month by month since trading Dwight Howard, with no reason to rush the process, are going to absorb a massive contract for a player with major defensive liabilities, in exchange for arguably their best player in Afflalo?
Huh. 
Anyway, if the Magic did this it would essentially be suicide. The worst thing you can do with a rebuilding project is try to rush it, and the worst way to try and rush it is with players like Lee. To be clear, Lee's a good player who's unfairly maligned for his defense with no consideration of his offense and effort contributions. But the Magic are the opposite of a team to need him. There's not only no need to rush the rebuilding process, but there are substantial reasons not to. Trying to do so simply ties up your cap and lands you back in the lottery, desperately hoping that luck will bail you out and rejuvenate your woe-begotten franchise. 
So.. kind of like the Cavaliers. 
Nevermind, the Magic should totally go for this. 
In other news, the Warriors are also chasing Melo if they can't get Kevin Love. Chase your dreams and fly, Golden State. 
The Cavaliers are ready to reset everything if they have to. Their interest in Lou Williams...

It sounds like the Cavaliers are going to be active before the NBA trade deadline on Feb....

We've got all the scores, highlights and news for Friday night
George Hill, who is unhappy in Sacramento, could be a solution to Cleveland's backcourt si...

Shaquille O'Neal and Sir Charles cruise to an easy victory over some hot peppers

If Charlotte indeed moves its star guard, there's going to be more people impacted than just...