Report: Maloofs' sale of Kings to Seattle group hits snag
The sale of the Sacramento Kings to a Seattle group is in doubt over concerns about control of team.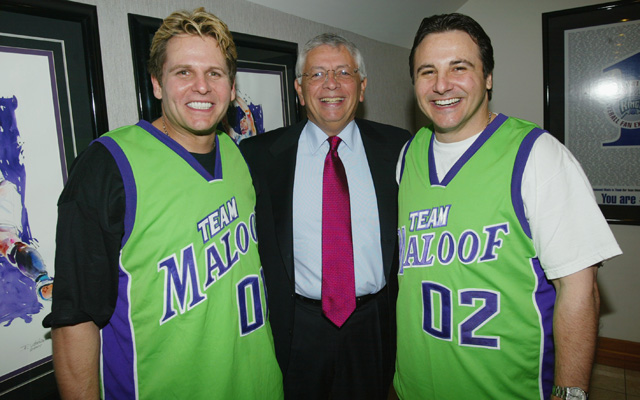 The Seattle Times reports that the Maloof family's reported deal to sell the Kings might have hit a snag.
(Getty Images)
Not so fast, King-stealers. The deal might not be quite done. 
After reports surfaced Wednesday of a nearly-completed deal for the Maloof family to sell the Sacramento Kings to a group led by Chris Hansen with an intent to move the team to Seattle, word started to percolate on Thursday of a potential snag in the negotiations. From the Seattle Times: 
The Maloof family will listen to offers to sell the Sacramento Kings, but might not be willing to walk away from the team entirely — creating a possible snag in the team's rumored move to Seattle.

The Seattle Times learned from an NBA source Thursday that the family that owns the Kings wants to keep a say in how the team is run, even if they sell it to Chris Hansen, who has a deal in place to build a new arena in Seattle if he can buy a team to play there.
via Source: Kings' owners want to keep hand in running NBA team | Sports | The Seattle Times.
So just to review here. 
The owners of the franchise who have hemmorhaged money over the past decade and driven the team into the dirt couldn't find a way to get out of Sacramento. After reneging on a handshake agreement with the City of Sacramento, which did just about everything conceivable to keep the team, they then started flirting with various cities including Virginia Beach, refusing to sell the team despite all the dysfunction. 
They finally find a buyer to purchase the team for the price that they want, at $500 million, which even after relocation fees sets them up at a simply monster profit on value. But they create issues for the deal, keeping Sacramento hanging in limbo. They want more control over the team that they're selling for a monster price, keeping only a small percentage, when they're desperate. 
We'll have to see if the issues scuttle the deal, saving the team for the city that has stuck by it in hard economic times, or if this is a blip in the inevitable rush that leads this team to Seattle. 
Kris Dunn somehow took a chunk of the Bulls court out with his teeth, but didn't lose any in...

The fallout from the Rockets-Clippers tussle continues; no Clippers were disciplined

DH12 is picked for free throws after a teammate gets ejected. He makes both, and lets Scott...
Bell was injured defending a Robin Lopez dunk and had to be taken off the floor in a wheel...

Trevor Ariza and Gerald Green are reportedly both suspended two games

We've got all the scores, highlights and news from Wednesday night