Report: Marreese Speights, Warriors agree to three-year deal
The Golden State Warriors and free agent Marreese Speights, formerly of the Cleveland Cavaliers, have reportedly agreed to a three-year deal.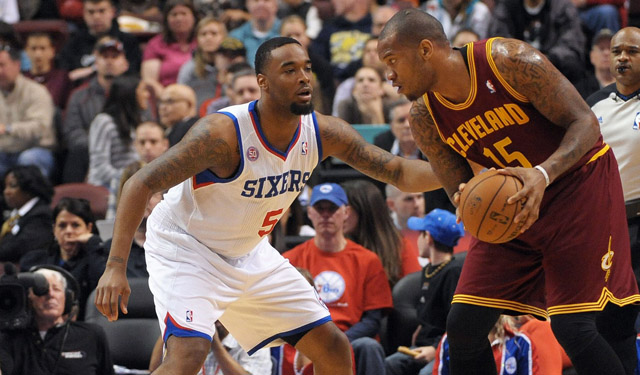 The Golden State Warriors have had to make tough decisions regarding their excellent bench from last season and juggling the process of maintaining flexibility as they try to better this team as a whole. With the recent reported agreement between the Warriors and Andre Iguodala on a four-year deal, it looked like the team lost its chance to keep reserve players like Carl Landry and Jarrett Jack, both of whom were looking for significant pay increases in their next respective contracts.
With Landry agreeing to a deal with the Sacramento Kings, the Warriors had to find a replacement for their top reserve big man from last season. They may have found his replacement in Marreese Speights, who last played for the Cleveland Cavaliers. Marc J. Spears of Yahoo Sports is reporting the Warriors and Speights have agreed to a three-year deal.
The Golden State Warriors reached agreement on a three-year deal with Cleveland Cavaliers forward-center Marreese Speights, a league source told Yahoo! Sports.
Speights saw a bump in his production last season when he was traded from the Memphis Grizzlies to the Cavaliers. He averaged 10.2 points and 5.1 rebounds in 18.5 minutes in 39 games with Cleveland. He also made 45.7 percent of his field goals as a Cavalier. This was up from the first 40 games of the season he spent with the Grizzlies when he averaged 6.5 points and 4.7 rebounds in 14.5 minutes. He shot just 42.9 percent with Memphis this season.
Speights is certainly a capable scorer, averaging 17.0 points per 36 minutes for his career. He can knock down open jumpers and has a nice game inside. It's just a matter of finding ways to get him consistent minutes that don't leave your offensive flow sputtering or your defense suffering. Taking away a lot of responsibilities from him on the floor and just unleashing him to score on his opponent could be a perfect role for him with the Warriors, if they can surround him with balance on both ends of the floor.
Westbrook's late layup gave the Thunder a 109-108 victory

LeBron became the seventh player in league history to reach the milestone

There were a few things that stood out from Tuesday's All-Star selections
Here are three players from each conference who had legitimate claims to make the game

LeBron achieved the milestone in the first quarter Tuesday

Here are the full lineups for the 2018 NBA All-Star Game