Report: Masai Ujiri wins 2013 NBA Executive of the Year
Nuggets GM Masai Ujiri has reportedly won the 2013 NBA Executive of the Year.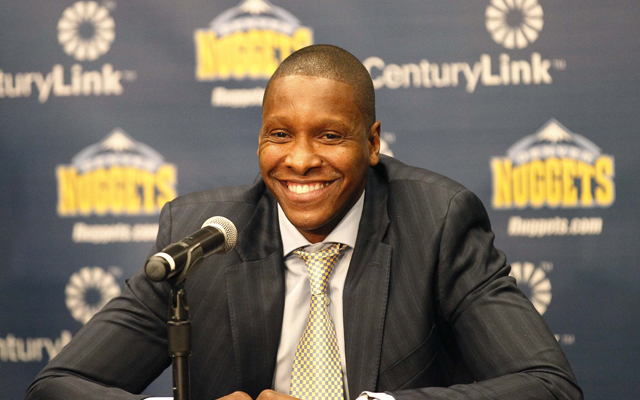 The Denver Post reports that Nuggets GM Masai Ujiri has won the 2013 NBA Executive of the Year. 
The Nuggets released a statement regarding a "major announcement" for Thursday, which is always a sign that there's an award when the NBA is expected to be present. 
Nuggets coach George Karl received the Coach of the Year award on Wednesday. The Nuggets won 57 games in the regular season before losing 4-2 in the first round of the playoffs to the Golden State Warriors. 
Ujiri was rewarded as much for how the team has responded after the trade of Carmelo Anthony as anything. Since losing their superstar, the Nuggets have converted to an athletic, fast, versatile team with flexibility. The criticism remains that the Nuggets don't have a star and cannot win in the playoffs. 
It should be noted that Ujrii doesn't really shy away from that criticism. He's maintained throughout the year that this team was not a title contender, and that if an elite player is available for them to pursue, they will. Until then, he's kept flexibility, retained the talented players, been aggressive in gambling for upgrades (like the move for Andre Iguodala last summer which improved the team's defense). 
He's also drafted well, nabbing Kenneth Faried and Evan Fournier, both of whom look to be steals. 
It's a big summer as the team wil have to decide whether to retain Iguodala in free agency should he opt out,  as well as Corey Brewer, who will be a free agent. Andre Miller is on the books for $5 million next season, and much of the rest of the roster will require examination. But for a team that lost its best player and decided not to go for a full rebuild, Ujiri did a phenomenal job and was worthy of winning the award. 
Other notable candidates include Golden State executive Bob Meyers, Knicks GM Glen Grunwald, Nets GM Billy King, and Rockets GM Daryl Morey. 
A look at who came out ahead after Tuesday's megadeal swaps the point guards on the East's...

How the addition of IT changes the Cavs and where they go this summer depending on LeBron's...

Ainge said that he expects the start of Thomas' season to be delayed, but he'll be 'fine'...
The NBA MVP odds have shifted quite a bit following the blockbuster Kyrie Irving - Isaiah Thomas...

It's debatable whether Boston gets better right away with Irving, but the future is definitely...

Kyrie Irving was set to grace the cover of this year's video game in a Cavs jersey -- whoo...