Report: Mavericks are 'all in' on push for Carmelo Anthony
The Mavericks are going to push for Carmelo Anthony with Dirk Nowitzki. No matter what happens with Melo, Dirk's staying home.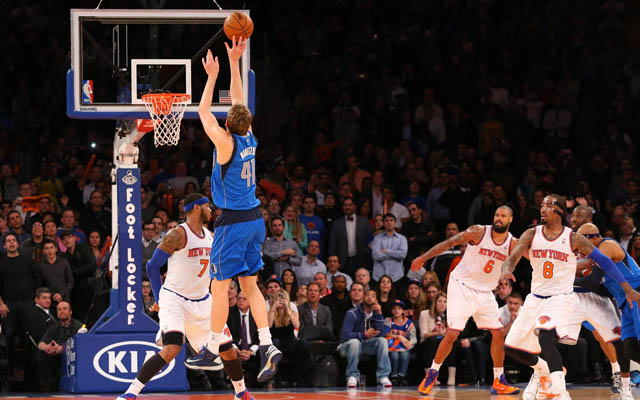 More Offseason Analysis: Updating Free Agency news | Top 40 free agents
The Mavericks have a checkered history with big-time free agents over the past few years. They struck out on the Big 3 in 2010, then whiffed on Carmelo Anthony the first time, Dwight Howard, and Deron Williams. But they've got Carmelo Anthony coming in for a meeting on Wednesday, and they plan to make the most of it. They are going 'all in' on Melo, and Dirk Nowitzki will be at the top of the push. From ESPN: 
Dirk Nowitzki update: Mavs, I'm told, operating under premise that finalizing Dirk's terms on new deal comes after Wednesday meeting w/Melo

— Marc Stein (@ESPNSteinLine) July 1, 2014
Mavs all in on pursuit of Carmelo Anthony and Dirk will be star face of Dallas' recruiting team Wednesday when its pitch follows Rockets

— Marc Stein (@ESPNSteinLine) July 1, 2014
Don't forget Mavs and Dirk already have good idea of ballpark on deal given fact sides discussed extension last month before June 30 buzzer

— Marc Stein (@ESPNSteinLine) July 1, 2014
Nowitkzi being headed back to Dallas is less of a surprise than the Heat Big Three going back. He was always going to re-sign with the Mavs, and had even laughed off suggestions otherwise. But this Melo pitch is a big deal. 
The Mavericks need someone to take the reins from Nowitzki as the franchise star. The Mavs present a totally professional organization with a brilliant coach, aggressive management, and an innovative marketing team. Dallas isn't New York or LA, but it is a major market with a huge foothold and of course, no state income tax. 
The question will be how the Mavericks will pitch Anthony beyond just Nowitzki and his center from the Knicks, Tyson Chandler. Who else are they going to get to make Nowitzki's life easier? What's the future of the franchise?
And most of all, how do they get LaLa on board? 
Cavs star chose to be very secretive when talking to Lakers rookie after Thursday's game

New York announced Porzingis would not return shortly after star forward left game

Teletovic missed the final three months of 2014-15 season with Nets recovering from same i...
Keep it right here for all of the news, notes, scores and highlights from around the leagu...

The NBA's City edition Nike jerseys are bold and very different

The Wolves may be smoke and mirrors, but the Pacers have the look of a team that can hang in...