Report: Mavericks negotiating release of Delonte West
Delonte West may be done in Dallas after his second indefinite suspension in a month's time.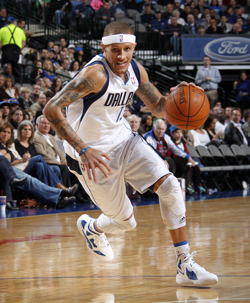 Delonte West may be done in Dallas.(Getty Images)
Following his second indefinite suspension for detrimental conduct before the regular season even begins, the Dallas Mavericks are working to part ways with Delonte West. From ESPN Dallas: 
The team is in the process of negotiating terms of West's departure with his agent, Dan Fegan, after the fiery guard was suspended Thursday for conduct detrimental to the team. It was the second time the team suspended West in two weeks, although the first suspension lasted only 21 hours, ending after West met with coach Rick Carlisle and president of basketball operations Donnie Nelson.

The source said both suspensions stemmed from frequent behavioral missteps by West, an eight-year veteran who was a valuable role player for the Mavs last season, averaging 9.6 points and 3.2 assists while playing tenacious defense at both guard spots.
via Suspended Delonte West won't return to Dallas Mavericks, source said - ESPN Dallas.
West told ESPN Dallas that there was a dispute between teammates that he's being blamed for. 
There is zero way for us to know what went on in that locker room. But we can judge the reactions to what has happened since, and West's biggest problem may be his reaction to the reactions. 
Let's say that West's telling the truth and he's being scapegoated for something that wasn't his fault. It's understandable to be upset. But even if he got upset and the team overreacted, responding by playing the victim is never going to get you anywhere, especially not with your employer. And lashing out on Twitter as West did really isn't going to help you out. 
There are other ways to proceed which will help your cause. West may not consider what happened to him fair, but somtimes how you handle something like this can be more damaging than the actual event. 
Dallas claimed free agent Eddy Curry off the waiver wire Thursday, despite being at the maximum 15 players on roster. That would indicate that they plan for Curry to take West's space. 
Another day, another social media beef for Embiid

We have all the latest scores, highlights and news from Wednesday's NBA games

Thomas spent a day with a 10-year-old girl whose family is also new to Cleveland
Barkley did not hold back with his opinion of the Big Baller Brand patriarch

LaVar Ball also made it clear he thinks his sons are being placed in 'a great situation'

The Thunder are just 12-14 on the season, despite the addition of Paul George and Carmelo...