Report: Mavericks re-sign Dirk Nowitzki for three years, $25M
The Dallas Mavericks have re-signed Dirk Nowitzki to a very favorable deal.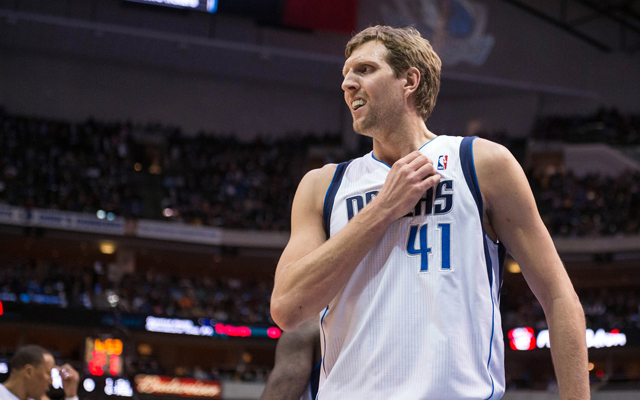 More Offseason Analysis: Coaching changes, news | Free Agency | Draft
The inevitable has happened. The Dallas Mavericks have finalized their deal with franchise star Dirk Nowitzki on a three-year deal that comes at a huge discount for the organization. It's an effort to allow the Mavs to stay competitive and bring in free agents with the extra salary cap space. It's what helped them sign Chandler Parsons to a three-year, $46 million contract earlier in the week. Despite other suitors trying to entice Nowitzki with big money, Dirk decided to stay and be a great teammate.
Marc Stein of ESPN.com is reporting that despite max offers from both the Rockets and the Lakers during free agency, Nowitzki has agreed to a three-year deal that will pay him $25 million. He was previously expected to sign for around $30 million but the number was adjusted to allow the other deal to get done.
ESPN sources say Dirk Nowitzki has taken bigger pay cut than previously thought. Deal finalized today at three years, $25 mil for Mavs lifer

— Marc Stein (@ESPNSteinLine) July 15, 2014
Story going online now detailing how Rockets AND Lakers called w/max offers for Nowitzki, but he rebuffed all outside interest to stay w/DAL

— Marc Stein (@ESPNSteinLine) July 15, 2014
Dirk is the franchise's all-time leader in games, minutes played, field goals made, field goals attempted, 3-pointers made and attempted, free throws made and attempted, offensive and defensive rebounds, and points scored. He's second in career steals and fourth in assists. He's the biggest star in franchise history, but he's not done contributing yet. While those other teams tried to pounce with big money, Nowitzki didn't waver on sticking it out with the only team he's played for in the NBA.
How big is the discount? He's only making $2 million more per season than what Jodie Meeks got with the Pistons earlier this summer.
A dive into the NBA history books for every result from every NBA All-Star Game

James set the tone during practice that this year's All-Star game was going to be differen...

The 76ers center handled 'mismatches' like they were nothing
LeBron James says he will continue his social activism no matter what people say about him

The 76ers guard is in hot water after a controversial video surfaced showing him using a racial...

LeBron James earned his third career All-Star Game MVP award