Report: Mavericks targeting free agent Chandler Parsons
Dallas will try and lure the restricted free agent from the Rockets, but if Houston doesn't land a max free agent, will they let him loose?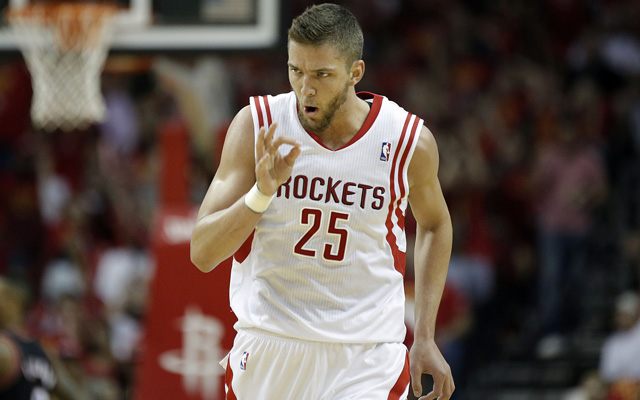 More Offseason Analysis: Updating Free Agency news | Top 40 free agents
ESPN reports that the Mavericks are focused on pursuing Houston Rockets restricted free agent Chandler Parsons in the event Carmelo Anthony does not choose them in free agency (which they don't expect him to at this point). 
Dallas, believing it likely will lose out on both LeBron James and Carmelo Anthony, will attempt to sign Chandler Parsons away from the Houston Rockets. The Mavericks also have Luol Deng and Trevor Ariza in their sights, sources said.
via Lance Stephenson, unhappy with Indiana Pacers, explores free-agent market - ESPN Dallas.
That's going to be difficult, particularly if Anthony doesn't go to Houston either. If the Rockets can't get Melo or Bosh, they're a lock to match any offer for Parsons. There have been reports they intend to keep Parsons even if they add a max free agent. 
But Parsons would be a great fit in Dallas. While not the defender they need to improve the worst defense of any Western Conference playoff team last season, he would provide another scoring weapon alongside Dirk Nowitzki and Monta Ellis. And his defensive upside could be incredible with his lengt and quickness. Parsons could spread the floor and punish any team that doubles Ellis or Nowitzki. He's like a giant-sized Jason Terry. 
If Parsons is actually available, he'll have offers from several teams, the Lakers and Cavaliers among them, depending on what LeBron James does. 
The Mavericks have been linked to interest in the Rockets wing all the way back on June 29th. 
The Warriors are coming into the season with overwhelming championship odds

The best player in the world has a chance to make an important statement -- and kneel

The Cavs begin their defense of the Eastern Conference against the new-look Celtics
San Antonio's track record speaks for itself, but they've made a few puzzling moves this o...

The Kings top pick thinks your burgers are trash, California

Popovich added that Trump is 'unfit intellectually, emotionally, and psychologically' to be...