Report: Mavs only have '50-50' shot at Deron Williams
The Mavericks sacrificed a worthy title defense as a result, choosing to instead focus on the long term. Did it work? That's to be determined.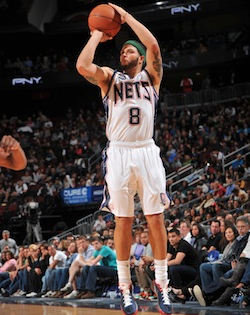 Dallas doesn't have the inside track for D-Will.
(Getty Images)
It seems that the thinking in Dallas was to wait for the summer. Let Tyson Chandler, J.J. Barea and
DeShawn Stevenson
walk so to focus on targeting big names in the offseason.
The
Mavericks
sacrificed a worthy title defense as a result, choosing to instead focus on the long term. Did it work? That's to be determined.
The 2012 free-agent pool had some water taken out of it when Dwight Howard waived his early termination option, but there's still a prize at the top -- Dallas native
Deron Williams
. The Mavs need a point guard, Williams wants to play for a contender and it's home. Perfect fit, right?
Not so fast.
According to ESPN.com
, the Mavs are hardly in the driver's seat for Williams.
Sources close to the situation told ESPN.com this week that the Mavs were convinced early on in their 2012 planning that having sufficient salary-cap space to be able to legitimately recruit Dwight Howard alongside Williams was the surest route to landing Williams. .... One source well-acquainted with Williams' thinking told ESPN.com this weekend that the Mavericks, in their current state, have no better than a "50-50 shot" of getting D-Will's signature in July ... despite the fact that the Nets aren't any closer to landing Howard than they are.
The new Brooklyn Nets appear to have an upper hand at Williams seeing as he's part of the organization currently and the team has made it clear they want to build around him. But a lot of that was based upon the promise of Howard, something neither the Nets nor Mavs can guarantee this summer.
Williams has spent almost two seasons toiling away on a lottery team and obviously doesn't want to step in to any kind of rebuilding project. He wants a return to winning and the team that can best promise that will likely have the best shot. The fact he's a DFW native is nice, but hometown sentiments take a backseat to money and winning.
Victor Oladipo just wants to live his life and enjoy his breakout season with his new team

Keep it right here for all of the news, notes, scores, and highlights from around the Asso...

LeBron has a player option for next season, and is expected to opt out and become a free a...
The Pistons will be looking to snap a five-game losing streak when they host the Celtics on...

Bryant offers some advice for Ball and other rookies about having a sense of urgency in the...

Burks has stepped up in a big way for the Jazz, averaging over 20 points per game since Rodney...