Report: Mavs targeting Howard, Jerryd Bayless, Jarrett Jack
Dallas sets it sight on free agency to improve the team.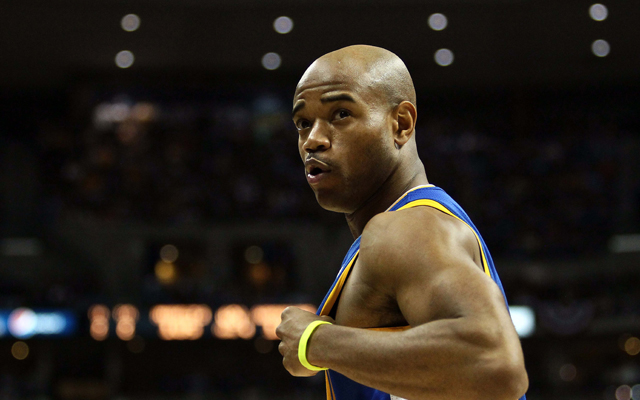 The Fort Worth Star-Telegram reports that the Mavericks have decided Chris Paul is unlikely to leave the Clippers, so they've set their sights on Dwight Howard as the big fish in the sea they want to get their hooks in. 
As a result, with Rick Carlisle having destroyed Darren Collison's confidence beyond all measure Darren Collison having not worked out like they'd hoped, the team is going to need a new point guard. And the Star-Telegram has two names on the list: 
The source said two point guards who interest the Mavs are Golden State's Jarrett Jack and Memphis' Jerryd Bayless. Both players figured prominently in their teams' runs in the current playoffs, and both will become free agents in July.
via Mavericks are preparing hot pursuit of free agent Dwight Howard, source says | Dallas-Fort Worth
Talk about your double-edged swords. If Collison drove Carlisle nuts, these two will have him Looney Tunes by lunchtime. Jack helped the Warriors into the playoffs as he became a Sixth Man of the Year candidate, and then was a huge part of their playoff run. The question has always been about his decision making when it comes to breaking off plays and setting himself up vs. getting the ball to Steph Curry. Would he be more open to sharing in clutch situations alongside Dirk?
Jack has made it clear he wants to return to the Warriors after their success this year, but this is likely to be his last major contract and he needs to cash in off what he built this year. The Warriors have his "Bird" rights, but will be up against financial restraints with Stephen Curry's extension kicking in and Klay Thompson coming up on one in the next few years. 
Bayless is coming into his own for Memphis but still has his decision making questioned, like when Lionel Hollins nearly had an aneurysm when Bayless launched a 3 from 30 feet out early in the shot clock during overtime of Memphis' Game 2 loss Tuesday. 
So neither option is going to calm the waters, but both guys can step up, hit shots, and make plays. We'll see if the Mavericks decide to throw some of that loose change at them or gravitate toward calmer waters. 
The Pacers believe the Lakers tampered with Paul George before they traded him

Among the questionable decisions by Jackson was signing Noah to a long-term, lucrative dea...

This Akron store doesn't want their hometown hero to leave again
Milwaukee's star did not get cleared to play for his national team due to a painful knee i...

Ball, the second overall pick in the NBA Draft, is receiving even more hype

Rap mogul supports the vision the outspoken father has for his brand and sons