Report: Melo wants the 'Dwight Howard' free-agency experience
Knicks superstar wants to be courted as he weighs money, winning and atmosphere in free agency.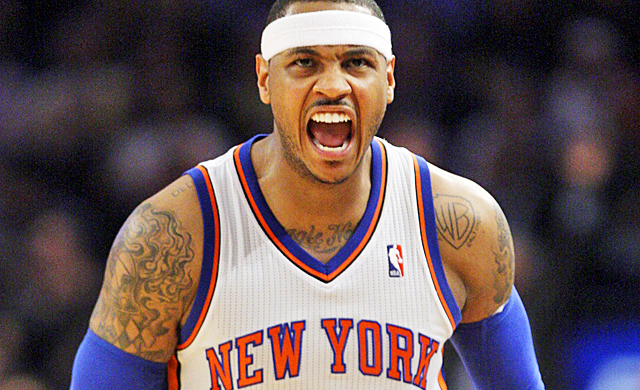 More Knicks: Woodson fired | Berger: Kerr best fit?|Doyel: Phil should coach
The Sporting News reports on the same day that the Knicks fired coach Mike Woodson that star Carmelo Anthony, who has an opt-out into free agency this summer he's indicated he'll use, wants the full expeience. Described as "the Dwight Howard treatment," Anthony wants to set up meetings with suitors, something LeBron James did in 2010 prior to "The Decision" and then choose from a menu of teams vying for his services.
Perhaps most interestingly, the Sporting News suggests Howard's own experiences with the PR hit of leaving a big-market team could have an impact:
Free agency will open July 1, and, the source said, Anthony would like, "the Dwight Howard treatment." That means he wants to go through the same sort of process that Howard went through last summer, when Howard set up shop in Los Angeles and set up meetings with five teams — Houston, the Lakers, Dallas, Golden State and Atlanta — each of whom came in and made formal presentations.

Anthony has not finalized any list of teams, but the Knicks and Bulls are certain to be on it. Chicago would have to shed salary to accommodate Anthony, but the Bulls will make Anthony their offseason priority. Chicago has its amnesty provision available and could use it to dump the contract of forward Carlos Boozer.

While Anthony is conscious of the poor PR that would come from jilting his hometown Knicks, it is — again — Howard's situation that has most altered his view. Howard left Orlando and dumped the Lakers after just one season, and went through a gauntlet of bad PR in doing so. But Howard seems genuinely happy in Houston, even if getting there was difficult. And for Howard, the storm of bad publicity has long since passed.
via SN Source: Woodson firing won't impact Anthony's free-agency decision—winning will - NBA - Sporting News.
Reading between the lines, that's not great news for the Knicks. Things are lining up against their chances of retaining the star forward. First, the cap is projected to be higher than expected, opening up more room for teams to sign him. While the Knicks will still be able to offer him an extra year and the most money, Houston will be in a position to leverage its lack of a state income tax to take some of that advantage away.
Meanwhile, Chicago will have star power (Derrick Rose), a player Anthony admires (Joakim Noah), a talented coach, and a similarly big market with success already in place.
Looks like we're headed for yet another summer with a superstar fielding visits from suitors bringing gifts and pleading for his services. We'll find out if the money is the most important thing to Anthony, or if winning truly plays as big a part in the decision as he says it does.
We've got all the scores, top plays and news from a busy NBA Friday

Our advanced computer model simulated Saturday's Magic vs. 76ers game 10,000 times

Several playoff contenders could use the services of Ilyasova, who's nearing a buyout agre...
Durant says he probably wouldn't have gone to college because he 'needed the money'

Ball, who has missed the last 15 games with a sprained MCL, will be on a minutes restricti...

Larry Hartstein is in the midst of his best run of the season and released a pick for Mavericks...