Report: Memphis Grizzlies hire Ed Stefanski for front office role
The Memphis Grizzlies have hired former Philadelphia 76ers' executive Ed Stefanski as the executive vice president of player personnel.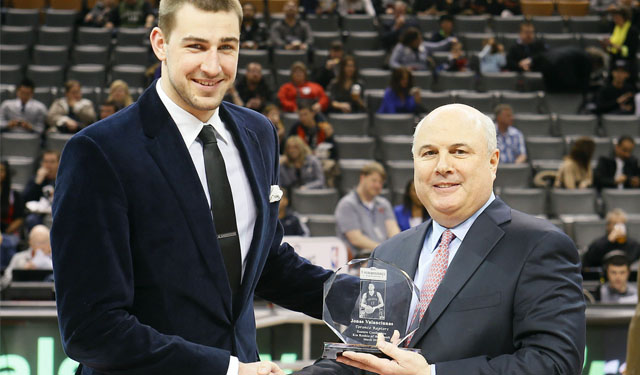 More Offseason Analysis: Coaching changes, news | Free Agency | Draft
The reshaping of the Memphis Grizzlies' front office is still ongoing. After Jason Levien was fired as CEO of the Grizzlies by owner Robert Pera following a reportedly bizarre working relationship, the restructuring of the front office mostly has consisted of Chris Wallace coming in to make decisions in the interim. The Grizzlies have now brought in some veteran help to keep things moving in personnel decisions.
Adrian Wojnarowski of Yahoo Sports is reporting the Grizzlies have hired Ed Stefanski as the new executive vice president of player personnel. Stefanski was last working in the Toronto Raptors' front office as the executive vice president of basketball operations under Bryan Colangelo.
The Memphis Grizzlies have reached agreement with well-respected executive Ed Stefanski to become executive vice president of player personnel, league sources told Yahoo Sports.

Stefanski will assume a key role in the Grizzlies' player personnel and scouting areas, serving under general manager Chris Wallace, sources said. Stefanski brings a strong player personnel background, as well as excellent relationships with front-office peers and agents.
Ed Stefanski is best known for his previous roles with the New Jersey Nets and the Philadelphia 76ers. From 2004-07, he was the general manager for the Nets. His most notable move was trading Kenyon Martin for three first round picks and trading two of those picks plus Alonzo Mourning, Aaron Williams, and Eric Williams for Vince Carter.
From 2007-10, he served as the general manager for the Sixers. His most notable moves for the Sixers during those years were signing Elton Brand as a free agent, selecting Jrue Holiday, and drafting Evan Turner. 
The NBA broke its silence with a statement related to the Lakers-Paul George tampering cha...

The Clippers big man thinks LeBron will reunite with the banana boat crew at some point

Have the Clippers reportedly found their next GM?
The NBA stayed to the point in their response to the Greek basketball federation

The Pacers believe the Lakers tampered with Paul George before they traded him

Among the questionable decisions by Jackson was signing Noah to a long-term, lucrative dea...