Report: Miami Heat making progress in pursuit of Luol Deng
The Miami Heat are reportedly making progress on acquiring Cleveland Cavaliers' forward Luol Deng to pair with Chris Bosh and Dwyane Wade.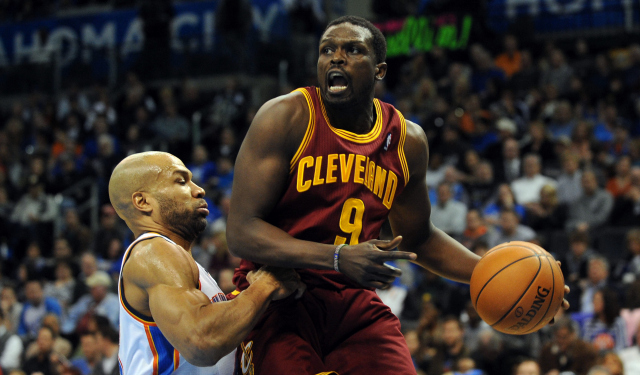 More Offseason Analysis: Coaching changes, news | Free Agency | Draft
The Miami Heat are avoiding a total meltdown after the departure of LeBron James back to the Cleveland Cavaliers by going down the free agency rankings to the next best available. They secured Bosh on a five-year deal and are working toward re-signing Dwyane Wade with a long-term deal as well. Now, they've reportedly turned their attention to replace James with Luol Deng, the Cleveland Cavaliers' small forward who just became quite expendable for them.
Marc Stein of ESPN.com reports the Heat are making progress in their pursuit of Deng. He spent the first nine seasons of his career with the Chicago Bulls before splitting time between Chicago and Cleveland last season due to a mid-season trade. 
ESPN sources also say that Miami is making progress in its pursuit of Luol Deng to team him with Chris Bosh and soon-to-reupped Dwyane Wade

— Marc Stein (@ESPNSteinLine) July 12, 2014
Deng turned down a three-year, $30 million extension with the Bulls back during the 2013-14 season, which ultimately led to the trade for the right to waive Andrew Bynum. Deng didn't help the Cavs make a playoff push though with the team spiraling downward before not having enough to make a final push into the 8-seed. It has been rumored he wasn't willing to take a big pay cut to join the Big Three in Miami, but now with LeBron gone, there should be plenty of cap room to find him a healthy contract.
The Heat could explore the option of a sign-and-trade with the Cavs in order to keep their full mid-level exception to still use on Josh McRoberts. There isn't a real reason for the Cavaliers to help the Heat here, but they could possibly poach a few more assets from Miami in the future to rub more salt in those fresh free agency wounds.
The Pistons put out a long list of details regarding their new uniforms

The Pacers traded the forward to OKC for two former lottery picks who have yet to reach their...

Gilbert said what was expected, but didn't necessarily sound all that confident
Altman addressed the media about Irving during his introductory news conference

Toronto's center has an uncertain future; can we still talk about this 25-year-old's poten...

Oakley was vague with his response on when he'd attend another Knicks home game