Report: Miami Heat to re-sign Chris Andersen to one-year deal
The Miami Heat and Chris Andersen have reportedly agreed to a one-year deal to bring the Birdman back to South Beach.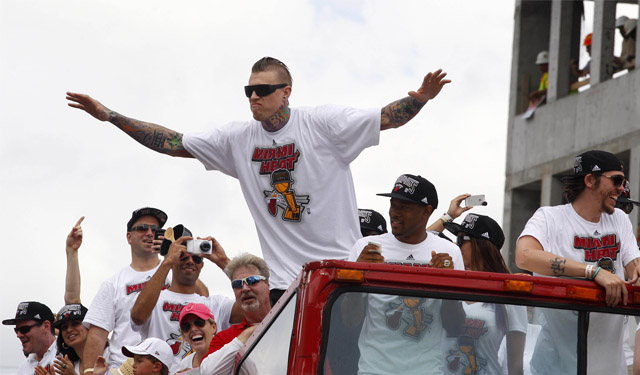 The Birdman is set to fly over South Beach for a second straight year. After helping transform the Miami Heat from one of the best teams in the NBA to a virtually unstoppable force by providing the finisher around the rim they desperately needed, reserve big man Chris Andersen apparently has zero intentions of leaving the winning formula.
Andersen and the Heat have agreed to a one-year deal to bring him back for the 2013-14 season, according to Adrian Wojnarowski of Yahoo Sports. The Birdman will be around to help LeBron James, Dwyane Wade and Chris Bosh try to pull off a 3-peat next season.
Chris Andersen will sign a one-year deal to return to the Heat, league sources tell Y! Sports.

— Adrian Wojnarowski (@WojYahooNBA) July 10, 2013
The Heat were very good before Andersen joined them, winning the title in the previous season, but after he provided a shot-blocking presence that could finish with authority on dump-off passes inside, Miami took off. They went 39-3 with Anderson in the game during the regular season, including a 27-game winning streak that was the second longest in NBA history.
In the playoffs, Andersen helped the Heat go 15-5 in games he played. He was suspended for Game 6 of the Eastern Conference finals against the Indiana Pacers for a flagrant foul on Tyler Hansbrough but came back and helped them close out the series and eventually win the 2013 NBA title.
The Pacers believe the Lakers tampered with Paul George before they traded him

Among the questionable decisions by Jackson was signing Noah to a long-term, lucrative dea...

This Akron store doesn't want their hometown hero to leave again
Milwaukee's star did not get cleared to play for his national team due to a painful knee i...

Ball, the second overall pick in the NBA Draft, is receiving even more hype

Rap mogul supports the vision the outspoken father has for his brand and sons