Report: Michael Beasley is 'toxic' to Suns, roster shakeup imminent
Michael Beasley is apparently regarded as "toxic" by the Suns.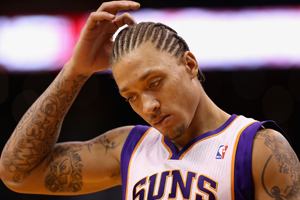 Beasley has hit hard times in Phoenix.
(Getty Images)
When the Suns agreed to a three-year, $18-million deal for Michael Beasley on July 4, the same day the Suns traded Steve Nash to the Lakers, here's what we had to say: 
Out with an icon. In with a knucklehead.
(via Report: Suns agree to sign Michael Beasley to 3-year deal - CBSSports.com)
Now, months later, with the Suns at 7-15 and Beasley seeing his minutes and role gradually diminished, things are going south in a hurry. USA Today reports that Beasley is considered "toxic" in the locker room, and big changes could be on the way. 
Raise your hand if you don't bleed orange and white and are surprised. Anyone? Anyone?
This is Beasley's third stop where his talent is unquestioned but his focus and demeanor are an issue. At some point it's not about the coaching or situation, it's about who Beasley is. It doesn't mean his career is over, it doesn't mean he doesn't deserve to be paid to play (though probably not $6 million per year and by probably I mean definitely). But he's now flamed out of Erik Spoelstra's and Dwyane Wade's graces, Rick Adelman's and Kevin Love's plans, and now those of Alvin Gentry, who needs a player like him to carry the load. 
Beasley has 251 points on 256 field goal attempts this season. 
The question is if that word -- "toxic" -- is in regard to his play, how teammates regard him on the court, or off-court issues. There have been rumors of Beasley complaining in the locker room about his role and minutes played. If he's a problem on the court and off the court, then what are you left with? 
Out with the knucklehead, it would seem. 
The Kings' big man says he was wrongfully arrested in August for possessing marijuana with...

George appeared to show some frustration with the Pacers following the trade to OKC

It's worth wondering whether or not Wade will be in the Cavs' starting lineup
Nurkic is confident Portland will be a tough team to beat, and says it must begin on defen...

Wade, recently bought out by the Bulls, could finalize decision as early as Wednesday

James said nothing has changed from 2014 when he said he'd retire a Cav