Report: Michael Jordan and Scottie Pippen hold dance-off at Pippen's birthday bash
Michael Jordan reportedly got into a dance-off with Scottie Pippen at Pippen's surprise birthday party.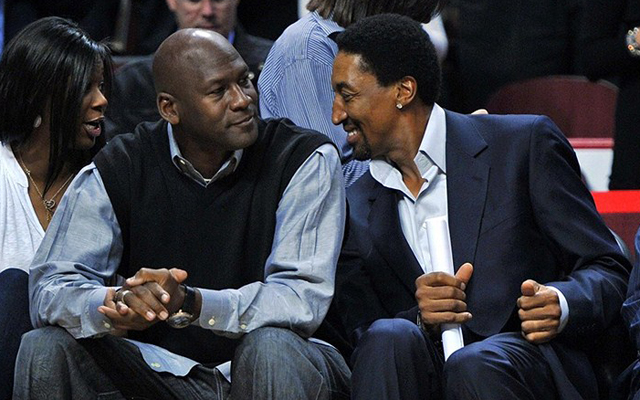 "No, see, you do a little dance, THEN make a little love, THEN get down tonight."
(US Presswire)
NBA training camps are right around the corner, fewer than 48 hours away for some teams. The season is starting and there will be a flurry of news and analysis here and elsewhere on the Internet. But we don't want to lose track of telling you what's important. Like the fact that reportedly this week Michael Jordan and Scottie Pippen had a dance-off. From the New York Post: 
Chicago Bulls legend Michael Jordan surprised his former teammate Scottie Pippen for Pippen's 47th birthday party Monday night. Pippen's wife, Larsa, planned the secret bash at Chicago hot spot Sunda(y). Bulls family, including team president Michael Reinsdorf and his wife, Nancy, NBA power broker William "World Wide Wes" Wesley, Antoine Walker, Ahmad Rashad, and new Bulls recruit and Chicago native Nazr Mohammed gathered to celebrate at the club with Pippen. Sources told us the fun night ended with a dance-off between Jordan and Pippen to the Trey Songz and Fabolous song, "Say Ahh."
via Michael Jordan surprises Scottie Pippen at Pip's 47th birthday - NYPOST.com.
OK, first of all, look at that list of names. Look at "Antoine Walker" and "Nazr Mohammed." Walker was a fine player in his day (for about a season-and-a-half) and Mohammed is a tireless worker and a great defender. But really? Michael Jordan, Worldwide Wes, Nazr Mohammed. One of these things is not like the other. 
Second, there is no amount of money I wouldn't give (were I to have it) for video of this dance-off. Can't you see Jordan, in his mom jeans, wiggling and breaking it loose? Also, would this be the one area where Pippen could beat Jordan? 
Can't you imagine Jordan keeping everyone there till 4 a.m., constantly playing the same song over and over again as he tries to bust a move that nets him the victory? 
There's no shortage of moments to choose from

The Trail Blazers almost traded for Charles Barkley, but when they didn't, it put them in debt...

The self-proclaimed ASG snub Williams may be bitter about Butler requesting to sit out Sun...
The commish said they were overly conservative with the decision this year, but that should...

A dive into the NBA history books for every result from every NBA All-Star Game

James set the tone during practice that this year's All-Star Game was going to be differen...