Report: Mike Woodson meets with owner Dolan after blowout loss
Knicks owner meets with coach, is the hot seat warming?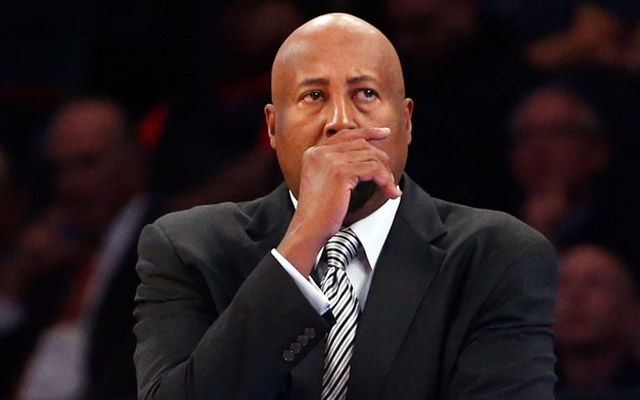 As the Knicks continue to implode, the next question is blame. The logical response would be to look at if this is really that bad or just an early season set of jitters. The New York response is to find someone to run out of town. That's how this works, I'm told. 
After the San Antonio Spurs beat them into nothingness Sunday, New York coach Mike Woodson had a meeting. Not with his players, not with his general manager Steve Mills, but with owner James Dolan. Let me put this simply: When James Dolan wants to meet with you after a 31-point loss at home? It's not to give you a pat on the back. 
Mike Woodson's horrible afternoon concluded with a meeting with James Dolan — which, under the circumstances, was probably just as excruciating as watching the Knicks fail to show up against the San Antonio Spurs.

The speculation over Woodson's job security is quickly becoming a central theme. Just days after the head coach addressed his status on a local radio program, the Knicks turned in an embarrassing 120-89 loss Sunday that wasn't nearly as competitive as the score would indicate. The Knicks never fought back and basically didn't seem to care that they were putrid in front of their home fans against one of the NBA's elite teams.
via Mike Woodson meets with James Dolan after Spurs beat Knicks by 31 points - NY Daily News.
Woodson, you'll recall, was made interim coach and then hired after the Knicks fired Mike D'Antoni. At the time, there were reports of a rift between D'Antoni and the Knicks' star and virtual bull god, Carmelo Anthony. Woodson formed a connectio with Anthony and gave him the freedom he's wanted to run the sets he want (isolation and post-up sets on the extended elbow), and set J.R. Smith loose to become Sixth Man of the Year by shooting a lot. 
Woodson's real value has been defensively, but the Knicks were only average last year defensively. They had been doing pretty well on that end until Sunday, but now find themselves 18th in defensive efficiency early in the season. 
It is still so early in the season, though. The Knicks were undefeated at this point last season, the Pacers were 3-4 and look how that turned out. Saying there's a lot of basketball to be played is like saying the Knicks' defense had some issue Sunday. There's no reason for panic, and certainly no reason for Dolan to get involved. No good can come of that. Woodson has made the Knicks into what the organization and CAA wanted: a Melo-centric franchise. They're without their franchise center. Some patience is called for here. 
Stephen Curry, who grew up in North Carolina, wants to be part of the next Panthers ownership...

Vince Carter is destined for a Raptors reunion; he doesn't know when it'll happen

Thomas has a target date for his return, and with the Cavaliers scorching, this could be h...
LeBron James once again is using his platform to be socially active

Not many games, but still plenty of action and intrigue Sunday in the Association

Kobe Bryant had a solid piece of advice for back in 2016 when he left OKC for Golden State