Report: Milwaukee Bucks, Gary Neal are closing in on a deal
The Milwaukee Bucks and former San Antonio Spurs' guard Gary Neal are reportedly closing in on a deal to bring the sharpshooter to the Bucks.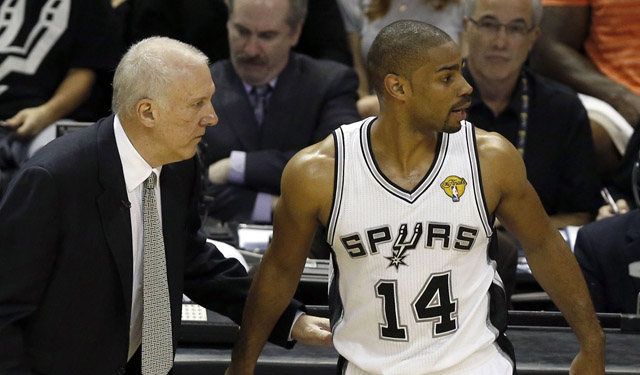 After a coming out party during the NBA Finals when the San Antonio Spurs lost to the Miami Heat in seven games, Gary Neal expected to be a difficult restricted free agent to pursue. You didn't want to pay too much to bring in a fourth guard with the capabilities of shooting the lights out for you, but you also didn't want to waste your time by offering a contract the Spurs could easily match. A few days ago, the Spurs withdrew their qualifying offer from Neal and made him a free agent.
This made Neal an unrestricted free agent and much easier to pursue. According to Marc Stein of ESPN.com, the Atlanta Hawks and Milwaukee Bucks were the top two teams attempting to sign Neal and it looks like the Bucks are reportedly going to win out. A deal is expected to be reached today between the Bucks and Neal, giving Milwaukee some much-needed depth at the shooting guard position.
Hearing: Bucks closing in on completing signing of Gary Neal after sources say Neal's agent David Bauman no longer in negotiations w/Hawks

— Marc Stein (@ESPNSteinLine) July 27, 2013
MIL & ATL were top two pursuers after Spurs withdrew qualifying offer to make Neal unrestricted free agent. Deal w/Bucks now expected today

— Marc Stein (@ESPNSteinLine) July 27, 2013
Gary Neal had his worst season shooting the basketball with just 41.2 percent from the field and 35.5 percent from the 3-point line. In his previous two seasons in the NBA, Neal made 44.4 percent of his field goals and was deadly from 3-point range at 41.8 percent. In the Finals, Neal seemed to feed off the heat (no pun intended but a pun enjoyed nonetheless) of Danny Green, making 46.7 percent of his threes in the seven-game series.
The Bucks signed O.J. Mayo this offseason to be their starting shooting guard, but don't have much depth on the wings at all. Assuming they end up re-signing Brandon Jennings to either the one-year qualifying offer or a multi-year contract, they'll have backcourt options of Brandon Jennings, O.J. Mayo, newly re-acquired Luke Ridnour, Ish Smith, and possibly second-round pick Nate Wolters. Adding Neal to that mix means fewer point guards having to masquerade as shooting guards and some real accuracy from downtown.
We've got all the scores, highlights and news from all of Sunday's games

The Rockets beat the Warriors 116-108 on Saturday night

The Cavaliers gave up 148 points in their loss Saturday afternoon to the Thunder
Blatt made the comment before coaching in the All-Star Game in Turkey

Is this rock bottom for the Cavaliers because it sure feels like it is

Wade, as he's done so many times in his career, threw it up to LeBron for the thunderous f...