Report: Minnesota, Nets talking trade of MarShon Brooks to Wolves
The Minnesota Timberwolves and Brooklyn Nets are reportedly discussing a trade of guard MarShon Brooks to Minnesota.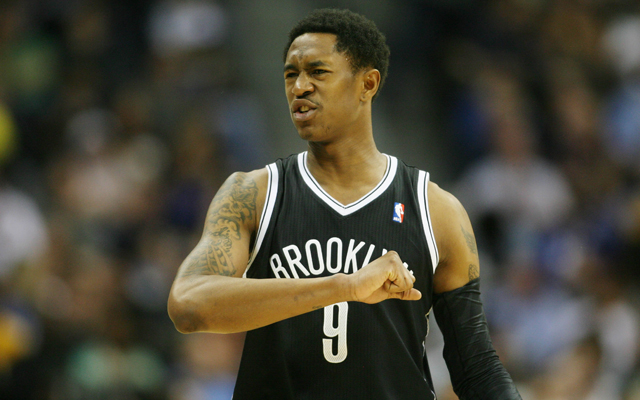 The New York Daily News reports the Minnesota Timberwolves and Brooklyn Nets have engaged in trade talks involving third-year player MarShon Brooks. 
The Nets have been involved in discussions of a trade that would send MarShon Brooks to the Timberwolves, multiple sources told the Daily News.

Minnesota has shown interest in the third-year guard out of Providence, calling around the league for feedback and initiating trade discussions. Talks have not escalated to anything serious or imminent at the moment, according to a source. However, another source said that a proposal is on the table waiting for the Timberwolves' approval.
via Source: Timberwolves are interested in MarShon Brooks | New York Daily News.
Brooks fell out of the rotation for much of the year after a promising rookie season, once the Nets traded for Joe Johnson and added C.J. Watson in free agency. 
The Wolves have been pursuing shooting guard options for a while. Moving Brooks' salary doesn't do them much good in pursuing free agents or saving on the luxury tax. 
You can't imagine the Wolves sending a draft pick with any value for Brooks, so a second-rounder would have to be the favorite in terms of give back from Minnesota. The Wolves had hoped that Brandon Roy would be the answer for them at shooting guard, but he was unable to play once again this season due to knee injuries. 
Brooks averaged five points and one rebound last season for Brooklyn, playing just 13 minutes per game. 
Is this rock bottom for the Cavaliers because it sure feels like it is

Wade, as he's done so many times in his career, threw it up to LeBron for the thunderous f...

The Warriors coach added there should be no shame in being picked last since everyone's an...
We've got all the scores, highlights and news from all of Saturday's games

The two teams have reportedly not had any substantial discussions to this point

Oladipo may be getting most of the shine, but this second-year big man has been phenomenal...