Report: MRI for Tony Parker shows 'nothing serious'
Tony Parker's MRI on his injured knee revealed "nothing serious" and the Spurs star is set to resume play with the French national team.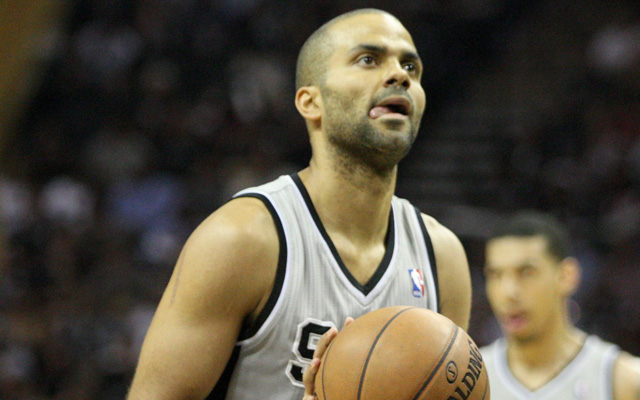 Update 9:44 a.m.: Basket USA reports that the MRI showed "nothing serious" and Parker is set to resume play with the French national team. So the EMT at coach Popovich's house can stan down.
Project Spurs found a report from L'Equipe in France that details a knee injury Tony Parker suffered in France with the French national team: 
According to the French website L'Equipe, Parker's knee was injured again in the match and he will have to undergo an MRI on Tuesday. 

Via L'Equipe with a translation.

Once again the victim of a hit on the right knee, he spent an MRI on Tuesday in Paris.

After the game, Parker commented on the loss in which he led Les Bleus with 29 points. Making an inference based on his comments, he's speaking in the context like he's assuming he'll be OK in the future and ready to play for France in the upcoming Eurobasket tournament next week.

"We need to continue to grow, but it is true that we have missed a great opportunity to win this game. It would have been good to take. It was a good game overall. Me, I have to continue to get back in shape. I had a good shot at the end but I did not put. I go tired of this game. There are many things we can do better. we need to learn to win these matches and then manage these matches there. We'll fight. It will change one day or another. It is the preparation and the goal is to beat in competition. "
via Report: Parker injures right knee again, will undergo MRI Tuesday.
Parker's coming off a season where despite the Spurs' efforts to rest him, he played in 66 games, then 21 playoff games. He was banged around, knocked down, dragged through emotional and physical wear and tear. Then a month later, he's practicing with the French national team. 
There are two months until the start of the season, but this doesn't bode well. Even if the MRI comes out clean, get ready for a season where the Spurs may have to rest Parker even more than they have. I'm sure the Commissioner in his last six months will love that. 
Warriors' forward doesn't understand the reasoning behind the all-too-common double technical...

Hardaway Jr. gave a 'safe' call like he was an umpire in baseball

Barnes hits the trey with less than a second left to lift Mavericks to dramatic 95-94 vict...
Kevin Durant was once again back in Oklahoma City

Gregg Popovich has never seen an injury lead to the issues that Kawhi Leonard has been fac...

Kobe Bryant, of course, had his 81-point game against Rose and the Raptors back in 2006