Report: NBA believes it can legally remove Sterling's wife as owner
Wife of Donald Sterling was never approved by board of governors so NBA reportedly believes it can remove her as owner.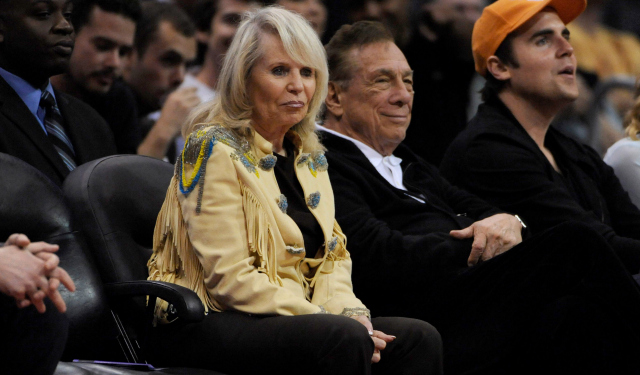 More: Sterling banned for life | Latest updates | NBA news
ESPN reports that the NBA believes it's within its legal rights to remove Shelly Sterling, the estranged wife of Donald Sterling, from ownership of the Los Angeles Clippes based on her having never been approved as majority owner by the NBA's Board of Governors. From ESPN: 
The NBA believes it has the legal grounds to oust both Shelly Sterling and her husband as owners, despite the fact that commissioner Adam Silver's punishments were specifically leveled only against Donald, according to sources with knowledge of the league's legal strategy.

Shelly Sterling, the estranged wife of exiled Los Angeles Clippers owner Donald Sterling, has made it clear to the NBA that she intends to retain her 50 percent ownership interest in the team.

She has publicly and privately cooperated with the league in its actions to ban her husband for life and move to oust him from ownership. However, the league's contention will be that Shelly Sterling -- while entitled to a 50 percent interest in the franchise -- has never been approved by the board of governors as the controlling owner. She and team president Andy Roeser, who went on an indefinite leave of absence this week, were only alternate governors.

In order to become the team's new controlling owner, Shelly Sterling would have to be approved by the board of governors, which is unlikely given her association with her husband of 58 years.
via NBA believes it has legal grounds to also oust Shelly Sterling from ownership, according to sources - ESPN Los Angeles.
Mrs. Sterling has been involved in conflicting reports over the past 72 hours indicating first that she intended to fight the NBA through suit to retain ownership, then later that she intended to cooperate with the sale. The NBA has been pursuing procedures toward a vote to terminate Donald Sterling's ownership after Commissioner Adam Silver banned him for life. 
The NBA has been very careful about how it has gone through this process, looking to mitigate its liability in the event that Sterling pursues suit. The NBA's advisory board has met twice in the two weeks since Silver's decision, removed Andy Roeser as president of the team and installed Dick Parsons as CEO Friday. 
Magic Johnson told reporters Friday that no NBA player would play for the franchise if Shelly Sterling remains in an ownership position, based not only on her association with her husband, but her involvement in multiple allegations of housing discrimination over the years. 
The Clippers lost to the Oklahoma City Thunder to fall beind 2-1 in their best-of-seven series Friday night. 
A report last week indicated Charlotte is looking to move Walker, along with one of its hefty...

Barea responds by claiming that none of Wall's teammates like him; the Wizards continue to...

Cousins finished with 44 points, 24 rebounds, and 10 assists
Love left Saturday's game, which the Cavs lost 148-124, due to illness

Kidd was fired by the Bucks on Monday afternoon

We've got all the scores, highlights and news from an NBA Monday