Report: NBA could veto Kevin Love trade if future contract is in place
The NBA is reportedly monitoring the Kevin Love trade to the Cleveland Cavaliers and could veto the deal if they believe Love has agreed to a future contract.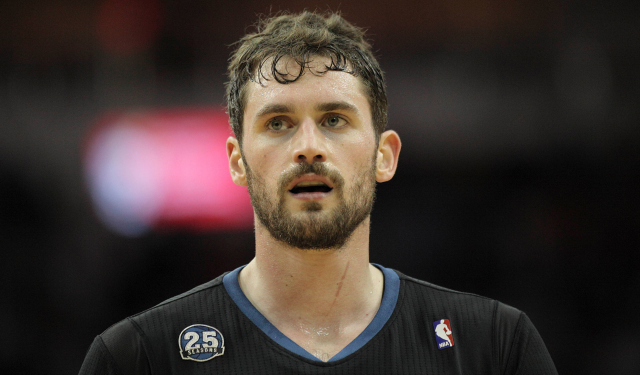 More Offseason Analysis: Coaching changes, news | Free Agency | Draft
With roughly two weeks until a trade between the Cleveland Cavaliers and Minnesota Timberwolves can be completed, there is still plenty of speculation about what could happen between now and then to prevent the trade from happening. The Wolves would be sending Kevin Love to the Cavs in exchange for Andrew Wiggins, Anthony Bennett and a 2015 first-round pick from Miami.
Nothing can happen until Aug. 23 due to contract stipulations that Wiggins can't be dealt for a month after signing his rookie deal.
One thing that could get the NBA to veto this trade is the "firm agreement" between Love and the Cavs on a future deal that was reported by Adrian Wojnarowski of Yahoo Sports. Marc Stein and Brian Windhorst of ESPN.com are reporting league officials are closely monitoring the process and completion of this transaction due to the possibility of an illegal agreement between Love and the Cavs.
But sources say the Cavs and Wolves, knowing that league officials are monitoring this transaction closely, have been careful not to make any public acknowledgments that trade details have already been agreed to. That's because Wiggins remains ineligible to be moved until 30 days pass from the signing of his rookie contract.

The Cavs were granted permission last month by Minnesota to speak to Love and his representatives in an introductory fashion, sources say, while James and Love have also been in direct contact in recent weeks about their long-term intentions of playing together.

On Thursday, Yahoo! Sports reported that the Cavs and Wolves have agreed to a trade in principle and that Love has an agreement to re-sign with the Cavs next summer for five years, $120 million after opting out of his contract.

But sources insist that no agreement for Love to sign an extension in Cleveland next summer -- when he can become a free agent -- is in place.

In addition, under NBA rules, such an agreement would be illegal, and, if proven, it potentially could be grounds for the league to block this trade and dole out punishment to both teams.
The odds of this being vetoed aren't great because it would be pretty hard to prove that Love and the Cavs have actually agreed to the reported five-year, $120-plus million contract that was reported. That doesn't mean it can't or won't happen though. The Wolves once had an illegal agreement with Joe Smith to sign for a small contract with the agreement that they'd make it worth his while in the future when they had the flexibility to pay him more. The league caught wind of that and punished the Wolves by voiding Smith's contract and stripping four first-round picks from the organization.
Love and the Cavs can't agree to a deal next summer right now, especially with the trade not even being a done deal. There seems to be a lot of tiptoeing around league rules with LeBron James sort of discussing Love being on the Cavs during his "Welcome Home" rally in Akron, Ohio, on Friday night; the trade being virtually a done deal during this month long moratorium; and now the potential contract. 
It's more than likely the Wolves and Cavs complete this trade on Aug. 23 and the league allows it to go through. But we've seen deals vetoed in the past for both trades (Chris Paul to the Lakers anyone?) and contracts (Joe Smith). Everyone will need to keep a tight lip for the next couple weeks.
Rose left Friday night's game with a sprained ankle, and is expected to miss at least one...

Ball, who finished with 29 points, 11 rebounds and nine assists, came up big down the final...

Lakers rookie got his shot to fall, thanks in part to some of the worst defense you will ever...
The singer of the national anthem at the Nets game took a knee at the end

This was the Lonzo Ball people were expecting out of college

Antetokounmpo finished with 34 points, 8 rebounds, 8 assists, and 3 steals, but the Cavs won,...