Report: NBA exec Jackson eyeing return to a team front office
NBA executive vice president of basketball operations Stu Jackson is considering returning to the front office of a team, according to Yahoo Sports.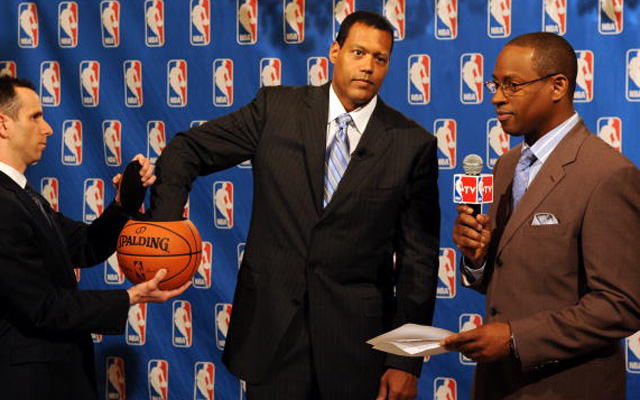 Yahoo Sports reports that executive VP of basketball operations Stu Jackson is looking to return to the ranks of team executives. 
Stu Jackson has long overseen basketball operations for the NBA, but he's begun the pursuit of returning to the front office of a team, sources told Yahoo! Sports. The restructuring of the league office could ultimately be dramatic, and those within the NBA are watching closely to understand how it'll eventually trickle down to the product on the floor.
via Pat Riley's shut-the-bleep-up message to Danny Ainge a show of support for LeBron James - Yahoo Sports.
Jackson served as a coach with New York and was both coach and GM of the Grizzlies back when they were in Vancouver. 
So, you know, not a great end to that tenure. 
The big impact here would be seen in who replaces Jackson should he step down. Jackson's office is responsible for doling out punishment for flagrant fouls, technicals and the like. He was responsible for suspending multiple Suns players in the 2007 playoffs for taking a step off the bench without actually being involved in any sort of altercation after the Spurs' Robert Horry hip checked Steve Nash into a table. 
For an idea of what kind of impact that could have, bear in mind that a more lenient replacement would likely make the public and media happy as they often do not feel incidents warrant suspension. But that could also lead to a rougher league if players don't feel their wallets will be threatened. 
Likewise, should Jackson depart and a stricter hand be put in place, you could see the same kind of controversy that NFL commissioner Roger Goodell has created with his zero-tolerance approach. If Jackson steps away when David Stern steps down in 2014, Adam Silver will have his hands full selecting who will replace Jackson. 
The Miami big man knocked down the set shot from the top of the key

Lin landed awkwardly after a layup attempt and winced in pain while grabbing his knee

Hayward suffered a horrific injury on Tuesday, but made sure to let the Boston fans know he...
The No. 1 overall pick has been tinkering with his form

George suffered a similar injury in 2014, and immediately offered Hayward encouragement

A certified athletic trainer says Hayward is 'hard-pressed to get back this season'