Report: NBA GM says trade market for Kobe Bryant is 'zero'
Lakers star couldn't be moved even if the Lakers wanted to move him, which they don't.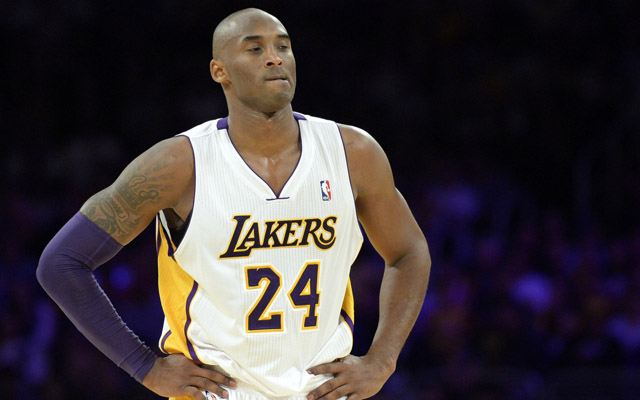 In the wide-ranging article from SI.com on Los Angeles Lakers star Kobe Bryant, a league source indicates that even if, for some reason, the Lakers wanted to move Bryant's massive $48.5 million contract over two years, they couldn't. There's "zero" market for him.
Now, up in a sprawling eighth-floor suite with views of the Hollywood hills, Bryant continues to talk optimistically about what's to come. His confidence is as admirable as it is predictable. And yet on paper the Lakers look an awful lot like a lottery team that is overly reliant on one aging star. There is not much hope on the horizon, either. Seven months after he ruptured his left Achilles ­tendon -- and three weeks before he fractured his left ­kneecap -- Bryant­ signed a $48.5 million, two-year deal. The contract, widely derided as the worst in the game, makes Bryant nearly impossible to move, even were the Lakers to try. Asked about Kobe's value on the market, one GM answers definitively: "Zero. Look at that number. Who takes him?"

This is by design, of course. It ensures that Bryant accomplishes something very few pro athletes have: playing an entire career with one team. Bryant's plan is to retire in two years, though he says he reserves the right to change his mind. Thus one of the game's greatest players and one of its two fiercest ­competitors --Michael­ Jordan being the ­other -- will likely exit the league laboring for an undermanned squad in a stacked conference.
via Kobe Bryant's Twilight Saga | Longform - SI.com.
Well, that's probably a little bit of an exaggeration, as far as the market goes. I mean, the Brooklyn Nets are still doing business, guys. They would jump at the chance to move Deron Williams and pieces for the second-greatest shooting guard of all time. The Knicks, too, would likely do a deal to put Bryant with his friend Carmelo Anthony and former mentor Phil Jackson. And then you have teams that could use it just from the perspective of boosting their profile. So "no" market is probably a stretch. 
But there's also no reasonable or likely market. Bryant is coming off those two leg injuries that caused him to miss all but six games last season, and under the new cap, that $24 million is just too big a hit for one player. It limits far too severely anything you can do to contend. The Lakers knew that, and did it anyway. 
It's true, as many will suggest, that Bryant offers more to the Lakers than just his play. He has brand value, and keeping the fans happy by keeping Bryant happy through this lull has its own reward. There's also the loyalty factor. Players know if they sign there that the Lakers will take care of them if they're great for a sustained period of time, something they need to show as their luster is starting to fade in light of the new financial realities of the CBA. So there were reasons to do the deal. 
And if you turn to the idea that Bryant himself should have been more considerate in tying up cap space, remember what he said about LeBron and himself being underpaid, and that James took a max contract this summer as well (though not for as much due to years of play). Those moves weren't just personally motivated, or out of pride. It was a signal to the owners by two power players that they stand opposed to the owners' efforts to control the salaries of the players that make them their money. It wasn't just a money move. It was a political one. 
Still, that contract does royally stick the Lakers. Digging out of this hole is going to take quite a while, it looks like, and this season, they're going to be playing Bryant an awful lot of money to play on a not-very-good team. 
Jason Kidd's firing gets the celebratory balloon treatment on Milwaukee's Twitter page

Milwaukee has parted ways with its coach in the middle of his fourth season

Larry Hartstein has his finger on the pulse of the Clippers and locked in a play for Monday's...
Our advanced computer model simulated Monday's Heat-Rockets game 10,000 times

Portland is among a few teams that have reportedly tried to engage in talks for the Clippers...

SportsLine's Mike McClure, a DFS pro with more than $1M in winnings, gives optimal lineup...