Report: NBA moving logo to the back of jerseys, are ads on the way?
Hornets uniforms give the first glimpse of a uniform with the logo on the back. Can ads on the jerseys be far behind?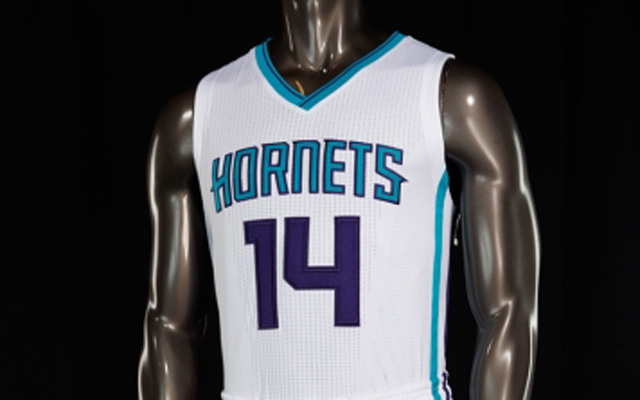 More Offseason Analysis: Coaching changes, news | Free Agency | Draft | Rumors
ESPN reports that after the Hornets unveiled their new uniforms Thursday, there's an element missing that's sure to cause some discussion. The logo of the NBA itself, featuring Jerry West, has been moved to the back. And while the league says it's a cosmetic adjustment, there's talk that it could be commercial in nature.
All NBA teams will be wearing the logo on the back for the 2014-15 season, the league confirmed to ESPN.com. A league official called it a "stylistic move" but declined to comment further.

Eighteen of the NBA's 30 teams have a team logo in the rear-neckline spot. The league official confirmed that those logos all will be replaced by the repositioned league logo.

The move is sure to fuel speculation that the NBA is preparing to move ahead with its long-planned program of jersey advertising. Removing the league logo from the front of the jersey will clear more space for an ad patch and remove what would otherwise be a competing visual icon.
via NBA to move league logo to back of jerseys - ESPN.
Back in March, Commissioner Adam Silver said that ads on jerseys were "inevitable." If this is indeed a move in that direction, it will be neither surprising nor widely supported. While players have been cautiously open to it (based on the potential for the revenue to be included in BRI, basketball-related income which they get a share of), media and fans have been pretty widely opposed to it.
Then again, the backboards were supposed to get ads two years ago, and that as yet to happen. The league's pretty careful with how they roll these things out. But it certainly seems like that's the direction.
While we're on the topic ... Jerry West is an all-time player, arguably top-20. But at some point it's time to revisit the image, right? I mean, there's a pretty strong argument that it needs to be Jordan. Would anyone, even West, object to that? Seems like something that should be explored for a number of reasons, not the least of which is that the logo of a league that is both historically and currently predominantly black or African American is based after a white player. I'm not saying West should absolutely be replaced, the image and brand value of the logo is iconic at this stage. But if we're moving things around to make money, might as well take a look and see if that's still accurate.
Or they can put LeBron on it and watch the world explode in outrage.
Pierce is set to have his jersey retired on Feb. 11, but there's been a lot of controversy...

Thunder will try to beat Lakers for 11th straight time at home

Clippers try to extend five-game winning streak
Also, quit sleeping on Anthony Davis and DeMar DeRozan

The first 10 selections for the NBA All-Star Game will be announced Thursday night

SportsLine's Mike McClure, a DFS pro with more than $1M in winnings, gives optimal lineup...