Report: NBA players expected to remain in Olympics for 2016 Games
NBA players will reportedly continue to compete in the Olympics during 2016 Games in Rio de Janeiro.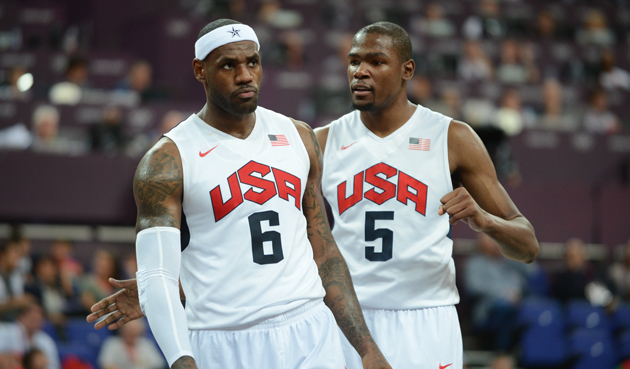 LeBron James and Kevin Durant could be representing the USA again at the 2016 Rio Olympics.
(Getty Images)
Maybe the disaster hasn't quite been averted yet, but at least it has been postponed.
After recent discussion and rumors that the NBA would pursue a plan to institute a 23-year-old age limit on USA Basketball competitors during the Olympics, SI.com reports on Thursday that NBA players of all ages are expected to compete in the 2016 Summer Olympics in Rio de Janeiro, Brazil.
These Olympics are not expected to bring an immediate end to the "Dream Team'' era of men's basketball, a source told SI.com on Thursday.

The NBA's interest in pursuing an age ceiling for Olympic basketball is "unlikely'' to be instituted in time for the 2016 Games in Rio de Janeiro, according to the source, who has direct knowledge of the talks involving the International Olympic Committee and FIBA, the international ruling body for basketball.

...

But the source stressed that quick action on an age limitation is highly unrealistic for FIBA. Passage of the new rule will require the ratification of 213 national basketball federations around the world -- the sporting equivalent of the United Nations. The involvement of the IOC will further complicate the talks.
In recent months, NBA commissioner David Stern had discussed a plan that would move all-age eligibility for NBA players to the FIBA World Cup, thereby potentially creating bigger profits for the league and its owners as the International Olympic Committee is not involved in the event.
All-age NBA players, of course, first began competing in the 1992 Barcelona Olympics. That squad -- led by Michael Jordan, Magic Johnson and Larry Bird and christened the "Dream Team" -- has been hailed for its importance in growing the game of basketball globally. The 2012 USA Basketball team -- led by LeBron James, Kobe Bryant and Kevin Durant -- is currently competing in the 2012 London Olympics and has advanced to the semifinals with a perfect 6-0 record. They are the heavy favorites to defend the gold medal they won during the 2008 Beijing Olympics.
So what would a 2016 USA Basketball roster look like? 
It would start with James, who could play in his fourth Olympics at the age of 31. Other current team USA veterans like Carmelo Anthony, Deron Williams, Chris Paul and Tyson Chandler could be in the mix. More likely, some of those players would depart and current Team USA youngsters Kevin Durant, Russell Westbrook, Kevin Love, Anthony Davis and James Harden would carry the bulk of the weight.
USA Select member Kyrie Irving already looks like a shoe-in and other Select members like John Wall, Derrick Favors, Klay Thompson and DeMarcus Cousins would seem to have a shot. Of course, there's also a lengthy list of injury scratches from this go-around who could still compete in 2016: Dwight Howard, Blake Griffin, Derrick Rose, Chris Bosh, and LaMarcus Aldridge, to name a few.
In other words, we know this already: as long as everyone is legally allowed to play regardless of age, USA Basketball will enter the 2016 Olympics in Rio as the heavy favorites.
George will be an unrestricted free agent in the summer

Durant said playing good basketball is more important than ending up with the best record

Follow along with all the news, notes and highlights from All-Star Saturday night
The 13 finalists will find out if they have been selected on March 31

Casey, who has spent six years coaching in Canada, doesn't understand why the gun laws are...

Galin Dragiev is SportsLine's No 1. NBA expert and locked in a pick for Team LeBron vs. Team...