Report: NBA replay to be done at off-site location next season
The awkward sights of officials huddled around a monitor for 10 minutes will be replaced by 10 minutes of general milling about next year.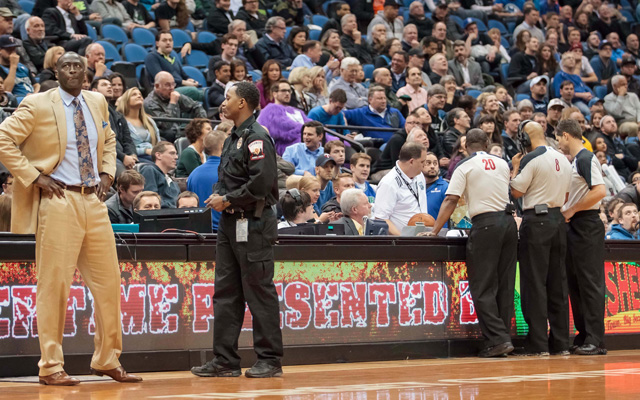 More postseason coverage: Playoff schedule, results | Latest news, notes
The South Florida Sun Sentinel reports that we may be seeing the end of those grating prolonged sequences of three officials huddled around a 2002-era computer screen to review a play; review could be headed to a centralized office. 
Just been informed the NBA WILL have a centralized replay center for next season's games. So these playoffs last games with on-site review.

— Ira Winderman (@IraHeatBeat) May 18, 2014
I for one am looking forward to more awkward crowd and players shots while everyone waits for the replay center to come to a conclusion. I'm kidding, hopefully this speeds up the process. Replay should honestly take no more than 30 seconds unless it's a spectacularly tough call to make (like the out of bounds call in Game 5 between Clippers and Thunder). This is a good plan that should help with matters and a smart move. 
Replay has come under fire as a major reason why games are dragging on so long, as the league is said to be interested in getting total game time under two and a half hours. 
We've got all the scores, highlights and news for Friday night

George Hill, who is unhappy in Sacramento, could be a solution to Cleveland's backcourt si...

Shaquille O'Neal and Sir Charles cruise to an easy victory over some hot peppers
If Charlotte indeed moves its star guard, there's going to be more people impacted than just...

Trading Kemba Walker (and dumping salary in the process) may be harder than expected for C...

Our advanced computer model simulated Friday's Jazz-Knicks game 10,000 times