Report: NBA to add 'heritage jerseys' to sleeved options in 2014-15
The NBA will reportedly add heritage jerseys like "Rip City" and "Motor City" to sleeved options in the 2014-15 season.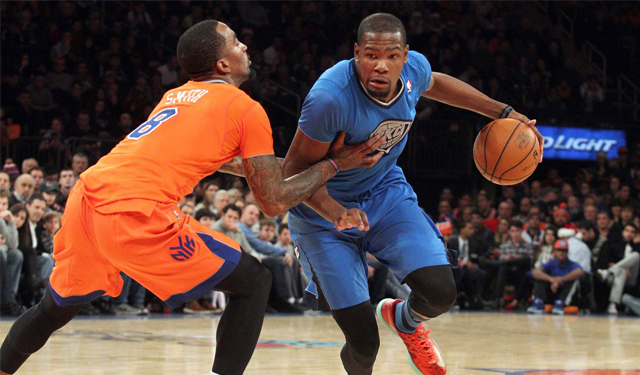 The NBA introduced the short sleeved jerseys in limited release in the 2012-13 season when a few teams donned them on the court. For the 2013-14 season, they expanded to at least 20 teams wearing sleeved jerseys with all 10 teams playing on Christmas Day sporting them. It looks like we'll see a different type of expansion with the sleeved jerseys for the 2014-15 season.
According to Chris Haynes of CSNNW.com, the "heritage jerseys" we've seen with some teams this season will be short sleeved options for next season. The Portland Trail Blazers have worn "Rip City" jerseys this season as a part of the heritage movement. The Detroit Pistons have worn "Motor City" jerseys. Those will likely be short sleeved for next season.
For the 2014-15 season, the heritage jerseys of NBA teams will be converted to short sleeved jerseys, a league source informed CSNNW.com.

The source spoke on the condition of anonymity due to the plan being subject to change leading up to next season, but it's "highly unlikely," the source explained.

In the case of the Portland Trail Blazers, their popular white "Rip City" jersey will be converted to a short sleeve fit. The same goes for the Detroit Pistons and their blue "Motor City" jersey.

There's reluctance by some teams to switch up their look, we're told. However, this is something the league wants to occur and there's more teams in favor of the change oppose to the ones that are not, another source said.
The sleeved jerseys have been as polarizing an issue for fans as on-court attire could be. Some people love the idea of it being a shirt/jersey you can wear off the court without having to pass out tickets to the gun show. Some people think they look ridiculous and are worried about the inevitable moment in which we start seeing ads being sold on the sleeves of the jerseys. Regardless of the thoughts on them, they've been enough of a talking point to keep around for the league.
If the potential for selling ads on uniforms is bolstered by keeping these options around, they definitely will not only stick around but expand to different options for all 30 teams.
Beverley handcuffed Lonzo on the court, and the emotion carried into the locker room

Ball's eagerly awaited first NBA game didn't go the way Laker fans hoped

Griffin can still hand out posters with the best of them
The Knicks forward is a bucket-getter in the truest sense of the term

On the TNT broadcast, even Shaq finally admitted that he likes Joel Embiid's game

The Warriors new Nike classic uniforms will be revealed Thursday