Report: NBA to approve measure to add advertising to jerseys in 2017-18
The NBA wants to make best use of its available real estate, hoping to profit off sponsorship money on the face of jerseys.
Advertising on NBA jerseys has been in the works for years. It's prime real estate on the league's most impactful element, the players, and an opportunity to generate more revenue. It was always a matter of time, and now it looks to become a reality. ESPN reports that the NBA Board of Governors is expected to approve a measure at their meeting Friday to begin implementing advertising on jerseys.
The measure is expected to pass, according to sources. Several teams have begun testing the market to sell the potentially lucrative ads, which would be placed in a 2.5-by-2.5-inch patch on the left shoulder
.A proposal was presented to the owners in February during a meeting at the All-Star Game in Toronto with the expectation that a decision would be reached at this week's Board of Governors meeting, held in New York on Thursday and Friday.
The initial proposal to owners was for teams to keep 50 percent of the sponsorship money from the jersey ads and for 50 percent to be added to the revenue-sharing pool for all teams.
Source: NBA owners expected to pass rule allowing ads on jerseys in 2017-18 season. 
Some people will think these jerseys are ugly and that it's an eyesore, or at the very least, an insult to the integrity of the game. Some will have no problem with it. The league has had ads on jerseys in the WNBA and D-League for several seasons without outrage, so it's likely going to be something with a lot of hand-ringing that people get over relatively quickly. 
It will be kind of fun to document the various local advertisers who will be featured on the uniforms, which Nike is set to take over manufacturing in another year. Also, how much will teams watch over their concerns for appearance of who is advertising? A jersey with something unpleasant on it won't be something the players will want to wear. 
Also, how much of the revenue will go toward the players as part of Basketball-Related Income? Will that have to be negotiated with the players union? Because if 50 percent is going to teams and 50 percent is going to revenue sharing -- which goes to the teams -- will the players' cut come out of both sides? Lot of questions in this situation left to be answered.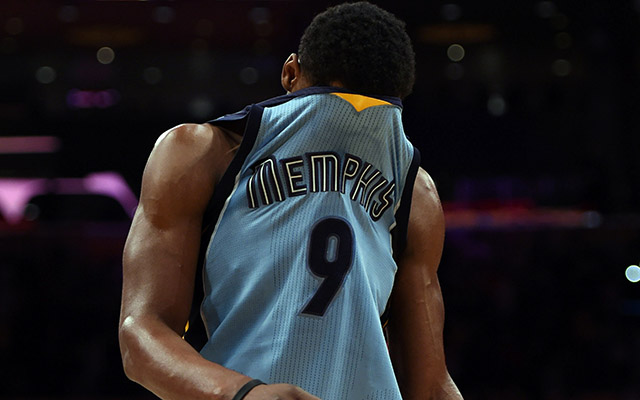 CBS Sports HQ Daily Newsletter
Get the best highlights and stories - yeah, just the good stuff handpicked by our team to start your day.
Please check the opt-in box to acknowledge that you would like to subscribe.
Thanks for signing up!
Keep an eye on your inbox for the latest sports news.
Sorry!
There was an error processing your subscription.
It was a busy night in the NBA, with 11 games on tap

The Raptors won at Oracle Arena for the first time since 2004 on Wednesday

This had to be staged, right?
The Golden State Warriors star clarified his comments on the moon landing

Curry, who recently said on a podcast that we've never actually been to the moon, says he was...

Durant said this group will be 'Bay Area legends'