Report: NBPA paid $4.8M to firms related to Hunter family
A Bloomberg report reviewing the public documents shows that union executive director Billy Hunter's family and their businesses have been paid $4.8 million by the union since 2001.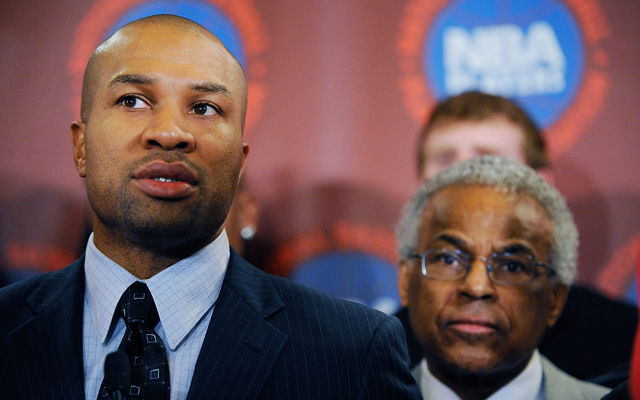 Before this mess with the NBA Players Union gets any prettier, it's going to have to get ugly. Very ugly.
NBPA president
Derek Fisher
was asked to resign, publicly, by the executive committee by an 8-0 vote seemingly because of his request of an audit of the union's financial dealings.
A Bloomberg report
reviewing the public documents shows that union executive director Billy Hunter's family and their businesses have been paid $4.8 million by the union since 2001.
The National Basketball Players Association, whose business practices are being questioned by President Derek Fisher, paid almost $4.8 million to Executive Director Billy Hunter's family members and their professional firms since 2001, according to public records…

Hunter, a former U.S. attorney who led the players through two work stoppages, has a daughter and daughter-in-law on staff at the union. Another daughter is special counsel at a law firm used by the association, and Hunter's son is a principal at a financial planning and investment firm that last fiscal year was paid $45,526 a month to run the union's financial awareness program and advise on investments, according to filings with the U.S. Labor Department.
Via the report, former baseball union leader Marvin Miller said, "It's not a criminal act, but it's not something I would do."
Fisher has rejected the request to resign, saying in a statement Friday, "I, along with many others, are extremely disappointed with the Executive Committee," Fisher said. "Their demand for my resignation and their need to protect the NBPA management and their own best interests instead of protecting the players we were elected to serve is unfortunate."
Fisher has two years remaining on his appointment as union president. He's been in that post since 2006.
According to the report, Hunter discussed his family's role with the union in a conference call to satisfaction last week.
"Billy answered those questions to our satisfaction, was very open and candid with us, and we were satisfied, and again, the players were disappointed because Derek has yet to address us," union vice president
Maurice Evans
said.
The union constitution allows Hunter to hire and set salaries for staff and advisers, according to Bloomberg. According to a 2011 Labor Department filing cited by Bloomberg, Hunter made $2.39 million in salary that year. Hunter's son Todd's company, Prim Capital Corp., has made almost $3 million from the union since 2005.
His daughter Alexis has worked for two law firms on the union's payroll. From 2007-11 she worked for Washington-based Howrey LLP, and the firm made over $380,000 from doing work for the union in that time period, according to the report.
Hunter's daughter Robyn is the union's benefits director and has an annual salary of $82,954. She has been paid over $200,000 by the union since 2009. Todd's wife Megan Inaba is the union's director of special events, but has worked for the union since 2001, prior to her marriage with Todd. She made $173,219 in 2011 and has earned almost $1.2 million at the union during her time there.
Hunter clearly took great offense to Fisher's inquiry on the union's financial dealings and took immediate action seeking to oust the union president. Fisher, who has very little to gain from this whole thing, says he was acting only in the best interest of the union and has nothing to hide.
We've got all the scores, highlights and news for Thursday night

The Sixers big man got his first All-Star selection -- and maybe some revenge -- on Thursd...

It appears some players are not entirely taking the All-Star voting process seriously
There were some weird discrepancies between the fan, media and player votes

LeBron and Steph will be the captains for the 2018 NBA All-Star Game

Arron Afflalo was involved in an altercation with Timberwolves big man Nemanja Bjelica on...