Report: Nerlens Noel wants to play April 4 against Boston
The 76ers rookie big man has been out all season rehabbing a torn ACL. But he wants to play, and play soon.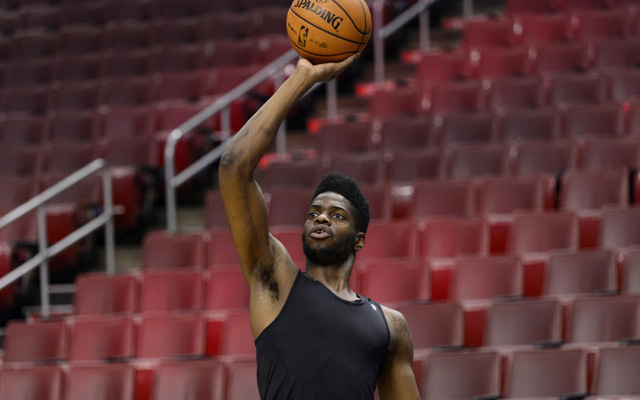 The Philadelphia 76ers are in a horrific spiral, having lost 16 consecutive games while now beginning to face the very real possibility they may not win another for the rest of the season.
But some help could be on the way in the form of their top lottery pick.
Nerlens Noel is targeting April 4 at Boston to make his Sixer debut, according to Philly.com. 
Noel cryptically tweeted "4-14-14" on Sunday afternoon, which apparently is because of his pending return.
Noel's hometown is Boston, and he has expressed the desire to make his first NBA appearance there. He has been out the entire season rehabbing a torn ACL he suffered during his freshman season at Kentucky. After being drafted No. 6 overall by the Hornets and then dealt to the Sixers in the Jrue Holiday deal, there was a thought the 76ers would just hold him out until next season. But apparently healthy and almost cleared to play, Noel is shooting to get a few games under his belt this season.
However, Noel has yet to participate in a full 5-on-5 practice, and reportedly has not made his desire to play April 4 known to the Sixer staff. Apparently, this is more just a wish on the part of Noel, and not actually a timetable. However, there was a report that Noel could make his return sometime after the All-Star break this season, and this would align with that. 
Kevin Durant says he doesn't agree with what President Donald Trump agrees with

Evaluating where the future Hall of Famer might land up if he is freed from Chicago's rebuilding...

Adam Silver said his piece with the schedule out; we address that and what the slate looks...
The Hawks and Sharecare reportedly agreed to terms on a five-year deal

A look at the context of the schedule and who plays who when, and how far they travel during...

Durant took on rapper Lil Dicky and actually might have lost