Report: Nets coach Jason Kidd is 'losing the locker room'
Nets coach reportedly has lost the trust of the players and the front office is considering a change.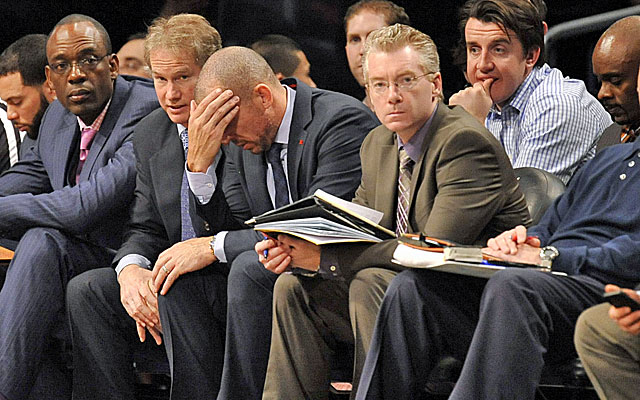 It was such a fairytale story, to start. The former franchise player comes to rescue the team and take them to the promised land. Instead, the Nets have turned into a nightmare with Jason Kidd at the helm.  Despite the horrible start, the increasing rumbling from players in post-game interviews, and the demotion/effective firing of assistant Lawrence Frank, there haven't been significant rumors of a potential end to Kidd's short-lived coaching career, until now. 
In a wide-reaching post by Yahoo Sports, sources suggest that Kidd's time is running out as the losses continue to pile up and the players have run out of patience and loyalty they're willing to extend to their former colleague among the player ranks. 
The Nets had tried to be supportive of Kidd, but patience is running low on the belief he can deliver the structure and organization desperately needed. As the Nets have devolved into chaos, Kidd has increasingly isolated himself within the locker room and organization, sources told Yahoo Sports. From management to players, Kidd has shown an inability to manage crisis and keep the respect of his players.

Rifts exist between old players and new, trust eroded with every humiliating loss in this 9-19 season.

And yet, somehow, Kidd believes he can keep publicly eviscerating his players' character and desire and spare himself blame and responsibility. For those around the Nets with a sense of history and irony, they remember Kidd running ex-coach Byron Scott out of his job for offenses born of this failed playbook.

Here's the question management is grappling with: Does Brooklyn start unloading its star players and stay the course with the coach, or unload the coach and let someone else manage these star players?
via Jason Kidd losing support within Nets' locker room - Yahoo Sports.
The piece alleges that both the players and management disagreed with Kidd over Frank's dismissal, and that players have outright stated their confusion and objection with his approach in the locker room. Combine that with Kidd's recent approach of moving the blame from himself to the players in an increasing series of post-game diatribes about effort and execution by the players and not preparation and strategy by the coaching staff, and you have a bad combination. 
The Nets fired Avery Johnson last season after Johnson won Coach of the Month in January when he wound up 14-14 last year. Kidd is currently 10-19 after Friday night's win over Milwaukee. So based on franchise history, he's well past his expiration date. But firing Kidd also represents a huge public mea culpa by GM Billy King and the Nets' brain trust, essentially admitting that they cannot recover and that the season may be lost. Sure, a new coach might kickstart the team and push them to the playoffs, but the lofty 55-plus-win goals of preseason are a distant memory.
Maybe Kidd can turn this thing around, still, and inspire a wholly incredible comeback story. But the players don't seem to know what they should do, and when they do, they don't seem able to. At this point it's more surprising that management hasn't made a knee-jerk move yet. Here's a question: What exactly are they waiting on? 
Kidd responded to the story before the Nets' win Friday night, brushing it off. 
"I just coach and get my guys ready," Kidd shrugged, flashing a smile at the podium following the team's 104-93 victory over the Milwaukee Bucks. "I can't answer to what you guys make up. I'm sorry. I don't have an answer to that question."
via Kidd brushes off report that he's losing locker room: "I can't answer to what you guys make up" » The Brooklyn Game.
CBS Sports HQ Daily Newsletter
Get the best highlights and stories - yeah, just the good stuff handpicked by our team to start your day.
Please check the opt-in box to acknowledge that you would like to subscribe.
Thanks for signing up!
Keep an eye on your inbox for the latest sports news.
Sorry!
There was an error processing your subscription.
Westbrook, who underwent a knee procedure late in the offseason, isn't ready for action just...

Healthy and happy, Memphis' leader tells CBS Sports he's mentally ready, with "everything to...

The guard told CBS Sports that Markelle Fultz's preseason 3-pointer was "special for all of...
The Warriors will receive their rings on opening night ahead of their matchup with the Thu...

The 29-year-old wing told CBS Sports that he still thinks about last April's play-in game "all...

Larry Hartstein has been dialed into the pulse of the NBA.