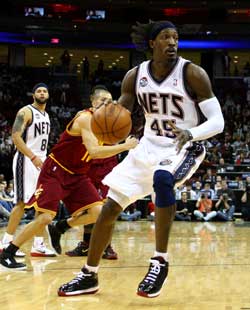 Nets forward Gerald Wallace plans to opt out.
(Getty Images)
Crash wants to hear from his suitors.
New Jersey Nets forward Gerald Wallace will opt-out of the final year of his contract and become a free agent this summer,
according to the New York Daily News
. 
Wallace, 29, had a player option worth $9.5 million for the 2012-2013 season. The
Daily News
reports
 that Wallace is seeking a multi-year contract but that it's possible he does return on his one year option.
Wallace arrived to the lottery-bound Nets via a trade deadline move from the Portland Trail Blazers. New Jersey acquired him with the idea of using him to appease All-Star point guard Deron Williams, who will also be a free agent this summer. Wallace is a talented, near-All-Star caliber two-way player known for his energetic play, opportunistic defense and ability to defend multiple positions.
The one-time All-Star averaged 13.8 points, 6.7 rebounds, 2.8 assists and 1.5 steals per game this season. He struggled to make shots at the rim and has never been known as a three-point shooter. Despite those faults, he consistently drew praise from Nets coach Avery Johnson and his younger teammates for his leadership abilities and intensity level. 
Wallace's statistics have already started to slide a bit despite the fact that he's just 29 and his relentless style of play and year after year of heavy playing time have a lot to do with that. 
Without question, though, the Nets are highly motivated to retain Wallace after sending out a quality lottery pick for him. To watch him leave for nothing in free agency would make their trade for him look like a disaster. With that in mind, there isn't much sense in Wallace signing up for just one year of his services when he could potentially get the next three (or even four) guaranteed at a solid dollar figure. Sure, he might not command $9.5 million per year but the long-term dollars would be worth it for a player with his injury history.
Whether any other teams want him as bad as New Jersey remains an open question, one that will ultimately decide what his final price is on the market.
Hat tip: ProBasketballTalk