Report: Nets owner Mikhail Prokhorov listening to offers
Since Steve Ballmer agreed to buy the Clippers for $2 billion, Brooklyn owner Mikhail Prokhorov is reportedly listening to offers from prospective buyers.
• 1 min read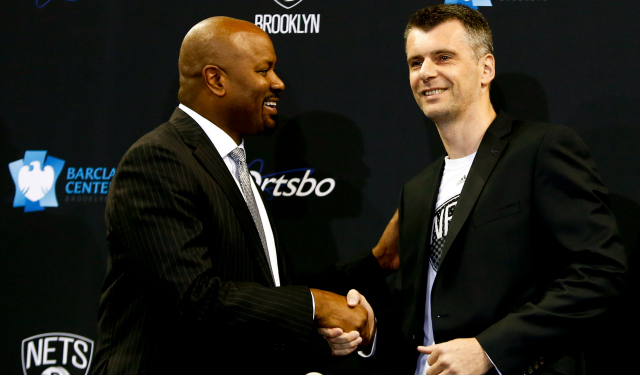 More Offseason Analysis: Coaching changes, news | Free Agency | Draft
Brooklyn Nets owner Mikhail Prokhorov is "open to overtures from potential buyers," since Steve Ballmer agreed to purchase the Los Angeles Clippers for $2 billion, according to Yahoo Sports' Adrian Wojnarowski.
"Just listening so far," a league official with direct knowledge told Yahoo Sports. "They haven't indicated a desire or willingness to sell. …Nothing was initiated by [Prokhorov]."

Part of Prokhorov's willingness to listen has come out of his company's curiosity of how much his ownership share of the Nets and the Barclays Center could fetch on the market, league sources said.

After the Sterling Family Trust sold the Clippers for $2 billion to Steve Ballmer, Prokhorov and his associates believe the combination of the Nets and Barclays Center major market location could net in the neighborhood of the Clippers sale, sources said. Less than five years ago, Prokhorov bought the Nets and a percentage of Barclays Center for $223 million.
Prokhorov has been an interesting figure since buying the team, rarely heard from but willing to do whatever it takes to field a contender. Other owners also say they are willing to spend, but he has gone to an almost comical extreme, with Brooklyn deep into luxury-tax territory. Its roster cost the franchise $190 million this season. This report doesn't indicate that Prokhorov is even considering selling, just that he's curious about how the franchise is valued.
At a press conference last week, commissioner Adam Silver was asked if he thought that the Clippers' price tag meant the marketplace for teams had been overinflated. 
"The market is what it is," Silver said, via the Orange County Register, "so I don't think it's overinflated in any way, and there were several other bidders, in addition to Steve Ballmer, as you know for the Clippers, and many came fairly close to the price he ultimately paid. So I have confidence that's what the market is."
If that is truly just what a big-market franchise costs in today's NBA, then it stands to reason that the Nets could theoretically go for much more than what Prokhorov originally paid. There's no harm in finding out what that number might be. 
The Rockets beat the Warriors 116-108 on Saturday night

The Cavaliers gave up 148 points in their loss Saturday afternoon to the Thunder

Blatt made the comment before coaching in the All-Star Game in Turkey
We've got all the scores, highlights and news from all of Sunday's games

Is this rock bottom for the Cavaliers because it sure feels like it is

Wade, as he's done so many times in his career, threw it up to LeBron for the thunderous f...