Report: Nets trading Tyshawn Taylor, cash to Pelicans for pick
The Brooklyn Nets and the New Orleans Pelicans have reportedly agreed to a trade that would send Tyshawn Taylor and cash to the Pelicans for a future pick.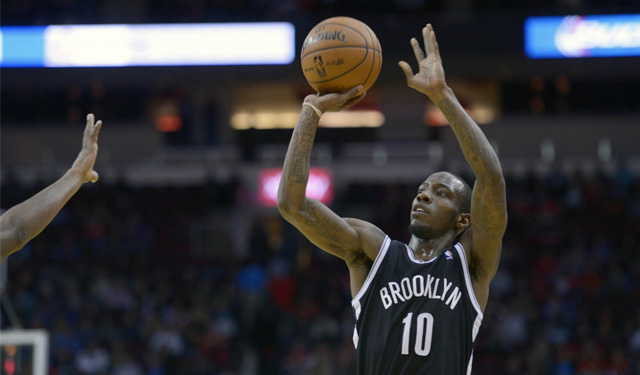 With the report that the Brooklyn Nets are finalizing a move to acquire Marquis Teague from the Chicago Bulls for Tornike Shengelia, the Nets have also reportedly moved point guard Tyshawn Taylor along with cash to the New Orleans Pelicans in exchange for a future draft pick.
According to Adrian Wojnarowski of Yahoo Sports, the Pelicans will acquire the former second round pick out of Kansas.
Brooklyn is sending Tyshawn Taylor to New Orleans for a future pick and cash, sources tell Yahoo.

— Adrian Wojnarowski (@WojYahooNBA) January 18, 2014
Clarification: Nets are sending Taylor to New Orleans with cash.

— Adrian Wojnarowski (@WojYahooNBA) January 18, 2014
Along with the move of trading away Shengelia for Teague and considering the luxury tax penalty the Nets are currently under with their roster, these moves could still save them a couple hundred thousand dollars, even with the cash payout to New Orleans. For Nets' owner Mikhail Prokhorov, that's the equivalent of us taking a few pennies in those trays on the counter of gas stations.
Taylor has played in 23 games this season, starting three of them, and averaging 3.9 points and 1.6 assists while shooting 34.1 percent from the floor in 11.7 minutes. With the Pelicans down to Brian Roberts and Austin Rivers at point guard while Jrue Holiday heals from a stress fracture in his right tibia, it's conceivable Taylor could have a chance to earn some minutes in the rotation.
It might be a good time to place a bet on the Boston Celtics

Stephen Oh is on an NBA heater using his data-driven approach and locked in his pick for C...

Even an NBA coach needs a bit, and Steve Kerr seems to have found his
Asked about Reggie Jackson's tactics towards Jimmy Butler, LeBron said he's 'all for it'

This stat line is in no way an indication that Ball has turned any kind of corner

All of Simmons' 3-point attempts have come from well beyond half court