Report: Nets want Redick or 1st-round picks from Clippers for Pierce
A Clippers-Nets sign-and-trade for Paul Pierce is reportedly unlikely.
• 1 min read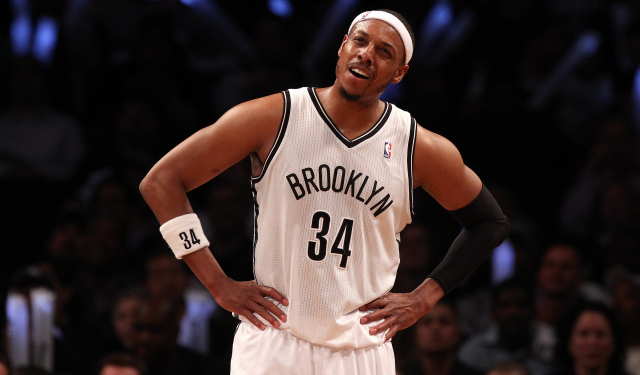 More Offseason Analysis: Coaching changes, news | Free Agency | Draft
The Los Angeles Clippers want to reunite free agent forward Paul Pierce with president and head coach Doc Rivers, but a sign-and-trade with the Brooklyn Nets is looking "unlikely," per Adrian Wojnarowski of Yahoo Sports.
Unless Clippers are willing to trade JJ Redick or first-round picks to Nets for Paul Pierce, a sign-and-trade is unlikely, sources tell Y

— Adrian Wojnarowski (@WojYahooNBA) July 5, 2014
The Clippers just agreed to terms on a deal with free agent big man Spencer Hawes, and, according to Yahoo Sports, will try to negotiate a sign-and-trade with the Cleveland Cavaliers in order to preserve their mid-level exception to offer it to Pierce.
Pierce was an obvious target for Rivers, who coached him for nine seasons with the Boston Celtics. A previous report from ESPN's Ramona Shelburne indicated that the Clippers would "likely would include some combination of Jared Dudley, Matt Barnes and last year's first-round pick, Reggie Bullock." Now it appears Brooklyn wants more than that. 
When the regular season starts, Pierce will be 37 years old. He showed last season that he could still be very effective for a playoff team, and it only makes sense that he'd want to chase a championship. Los Angeles might be a better place to do that than Brooklyn, but if a sign-and-trade can't be worked out, he might have to sacrifice some money in order to go there. That would also leave the Clippers with an abundance of wing players, and it would likely necessitate Rivers making more moves.
For the Nets, getting something for Pierce would be preferable to nothing, right? A first-round pick -- even one that's likely to fall in the late-20s -- would be big for a franchise that has traded away so many of them, but it's unclear whether or not Rivers would be willing to surrender one. Brooklyn general manager Billy King, Rivers and Pierce all have decisions to make here.
The Hall of Famer's jersey was retired by the Celtics in 1982

It's rare to see a legit punch in an NBA fight, but this was definitely one of them

We've got all the scores, highlights and news from an NBA Tuesday
The former Slam Dunk Contest champion will take his talents to Tri-State

Do NBA players have look-a-likes from famous paintings? We found out on the new Arts & Culture...

Larry Hartstein is on quite a run in picks involving the Suns and the Trail Blazers