Report: Nike has right to match 10-year, $265m deal for Kevin Durant
Under Armour's deal with Kevin Durant is 10 years and somewhere between $265 million and $285 million, but Nike will reportedly have a chance to match.
The earlier rumors of Kevin Durant getting over $300 million in his next shoe contract look to be exaggerated, but not by much. Darren Rovell of ESPN.com is reporting Roc Nation Sports, the Oklahoma City Thunder star's representation, has informed Nike that there is a deal on the table between Durant and Under Armour that is worth between $265 million and $285 million over the next 10 years. It also includes stock in the company and even a community center built in Durant's mother's name.
Rovell also reports Nike has a chance to match that deal with Durant, who has a current deal with Nike. Previously, Nike is reported to have offered Durant a deal that would pay him at least $20 million per year. From ESPN.com:
Kevin Durant's representation, Roc Nation Sports, informed Nike on Wednesday that he has a deal on the table with Under Armour worth between $265 million and $285 million over 10 years, sources told ESPN.com.

The deal includes Under Armour stock and other incentives such a community center built in his mother's name whose exact worth will not be known for some time.

Nike, which saw its signature business related to the Oklahoma City Thunder forward grow to roughly $175 million at retail this past season, will now have the right to match, which is a condition of Durant's current contract with the brand. Durant can still choose Nike if they don't match, but can't legally choose Under Armour if they do.

Nike's last offer, sources said, would have given Durant a base and a minimum royalty guarantee that would equal no less than $20 million a year.
This is unprecedented territory for Under Armour. It signed Stephen Curry back in 2013, but grabbing Durant for this kind of money would shove the company into the forefront of the basketball shoe business. Durant has become one of the biggest sellers for shoes and clothing during his time with Nike -- while becoming one of the best players in the NBA. Nike's marketing around him has been perfect as well. 
For Under Armour, it's relatively new to the basketball shoe business and gains most of its profits from other sports. Rovell says Under Armour would have to guarantee the money to Durant upfront, but Nike still has the chance to match it all and retain one of its top clients.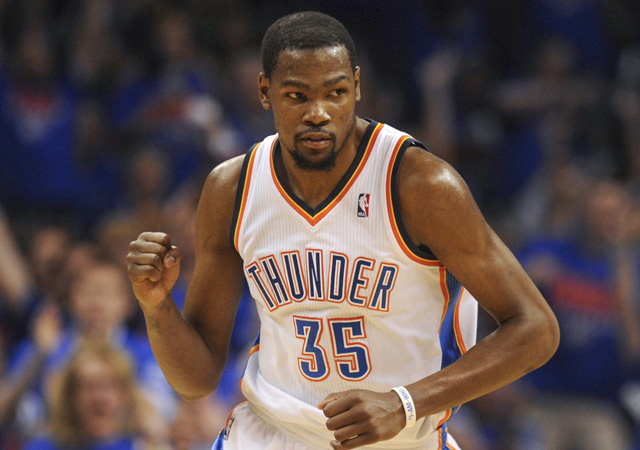 LeBron had 29 points, 11 rebounds, and 10 assists in the Cavs' 109-100 win over the Jazz

The montage showed Carmelo's best Knicks moments before playing the Thunder game

KCP can't leave California for 25 days due to the terms of his pleading guilty to a misdemeanor...
Keep it right here for all of the news, notes, scores and highlights from around the leagu...

LeBron tried to keep what he said a secret, but one mic on the court picked it up

SportsLine's Mike McClure, a DFS pro with more than $1M in winnings, gives optimal lineup...