Report: No. 1 pick Anthony Bennett resumed 5-on-5 basketball
Cleveland Cavaliers forward Anthony Bennett appeared to have healed from shoulder surgery and is reportedly playing 5-on-5 basketball again.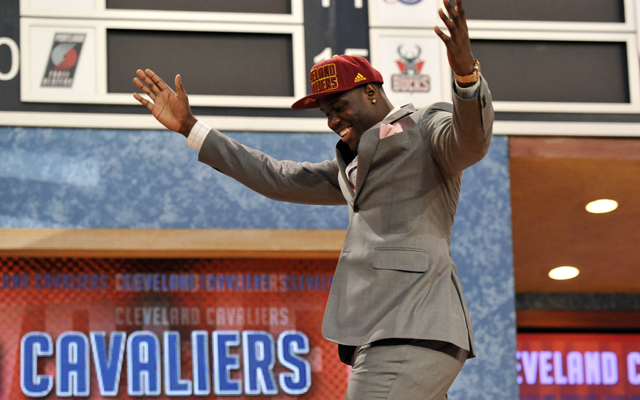 It's odd how little we've discussed the No. 1 pick in the 2013 NBA Draft this offseason, but Cleveland Cavaliers forward Anthony Bennett hasn't been much of an anticipated story in his first offseason in the NBA. It could be the fact that his selection as the top pick in the draft was such a surprise that nobody really knows what to do with him or it could be the fact that he hasn't been playing basketball and didn't participate in Las Vegas Summer League due to a shoulder injury he had. But his absence from the public conversation seems like a weird thing.
That could all change now with the report from Marc Spears of Yahoo Sports that Bennett has resumed playing five-on-five basketball for the first time in months. This is just in time for Bennett to start his first training camp with the Cavaliers and start fighting for minutes in Mike Brown's rotation. The UNLV star could have trouble earning a starting position with Tristan Thompson and Anderson Varejao on the roster but he looks ready to start competing.
Cleveland Cavaliers rookie forward Anthony Bennett, the No. 1 pick in June's NBA draft, resumed playing five-on-five basketball this week, league sources told Yahoo Sports.

Bennett had surgery May 8 to repair a torn left rotator cuff that was expected to keep him out for fourth months. The former UNLV star was not able to play for the Cavaliers' summer league team in Las Vegas because of the injury. Bennett, however, began playing five-on-five without any restrictions this week for the first time since the surgery. He has played well, but needs to get in much better shape as the start of training camp nears.
The key to just how much time on the court Bennett is able to earn in his first season could be how healthy Andrew Bynum ends up being. After reports yesterday that he could miss the entire preseason after missing the entire season in 2012-13, we don't know how ready for basketball he'll be any time soon or how quickly he'll be back on the court. If he's still out for an indefinite amount of time, Bennett moves up the depth chart and gets an easier shot at cracking the rotation right away.
Bennett will eventually need to find a balance on both ends of the floor as a small forward-power forward tweener who is looking to dominate with his size and quickness on offense while not getting burned on defense because he doesn't really have a position there. If he can do that and provide a scoring punch off the bench while not killing the team defensively, he'll find minutes. Even if they don't plan on using him as a small forward right away, that versatility gives them a lot of options down the road.
It's just good that he doesn't appear to have limitations heading into training camp and has resumed five-on-five activities already.
Mirotic and Portis combined for 49 points as the Bulls won their fifth straight game, beating...

Gobert, who missed 11 games earlier this season with a knee injury, will have an MRI

Get all the latest scores, news and highlights from Friday's NBA games
Porzingis is questionable for Carmelo Anthony's return to MSG on Saturday

The Spurs and Rockets will renew their in-state rivalry on Friday night

Anthony will play at Madison Square Garden on Saturday for the first time since being trad...