Report: 'No indication' Wolves want to trade Kevin Martin, Corey Brewer
Minnesota president and head coach Flip Saunders reportedly want to keep his veterans around.
• 1 min read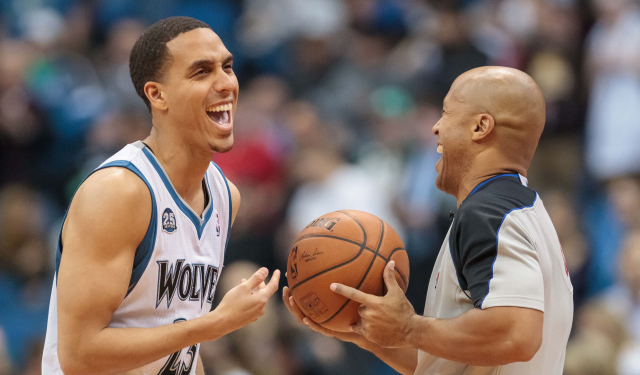 Offseason: Free Agency | Latest from Ken Berger | Rumors
With Kevin Love on the verge of being shipped to Cleveland for the last two No. 1 overall draft picks, Minnesota Timberwolves president and head coach Flip Saunders want to keep veterans like Kevin Martin and Corey Brewer around, according to Jerry Zgoda of the Minneapolis Star Tribune.
I get no indication Flip wants to trade Martin, Brewer, etc., now. He needs scoring & wants veterans' presence

— Jerry Zgoda (@JerryZgoda) August 7, 2014
It had sort of been assumed that Martin would be involved in any Love deal, as he was signed to a four year, $27.8 million contract last summer. Even though he averaged 19.1 points per game last season, the 31-year-old's value is much lower than it was a year ago because he didn't defend well or get to the free throw line as much as usual. As CBSSports.com's Zach Harper noted, the Wolves would probably have to attach a pick or player to move him. If Saunders wants to remain competitive, which is what it looks like, then his experience and scoring ability might be worth more to Minnesota than it would to a potential trade partner.
Brewer's situation is a bit more complicated, as he has two years and $9.6 million left on his deal and the team has a logjam at the small forward position. Brewer is an effective role player at 28 years old, and could help a contender. This is where it's worth mentioning again that it seems Saunders wants to make a run at a playoff spot, so it might not behoove him to dump a productive player like Brewer.
There's also no reason for the Wolves to leak that they want to trade their veterans, even if they're open to it. While this means we shouldn't just assume they'll be gone, it's also unlikely that Saunders is done with reshaping the roster this offseason. This is a new era for Minnesota, and he should consider every option that would improve the team in the long run.
Kris Dunn somehow took a chunk of the Bulls court out with his teeth, but didn't lose any in...

The fallout from the Rockets-Clippers tussle continues; no Clippers were disciplined

DH12 is picked for free throws after a teammate gets ejected. He makes both, and lets Scott...
Bell was injured defending a Robin Lopez dunk and had to be taken off the floor in a wheel...

Trevor Ariza and Gerald Green are reportedly both suspended two games

We've got all the scores, highlights and news from Wednesday night