Report: No players pulling out of Team USA after George injury
Players remain committed to FIBA competition after Pacer suffers fractured leg.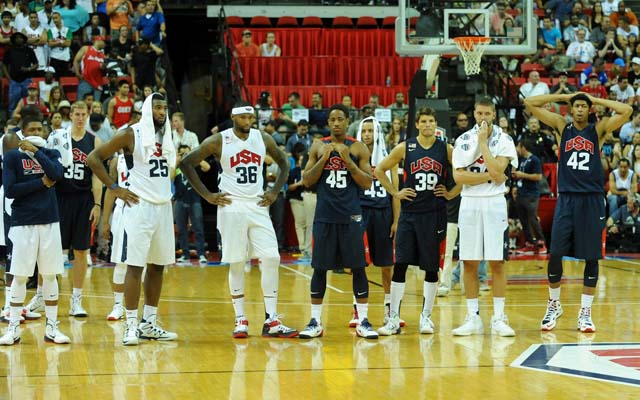 Offseason: Free Agency | Latest from Ken Berger | Rumors
ESPN reports that no members of Team USA are expected to withdraw in the wake of Paul Geoge's traumatic injury last Friday. 
While there is undoubtedly heightened concern within the group after watching George suffer a horrendous compound leg fracture in Friday night's intrasquad scrimmage, sources told ESPN.com that various Team USA players have talked amongst themselves about the need to stay together, with showing support for George ranking as one of their primary motivations.

The remaining 19 players in contention for a spot on Team USA are standing behind Paul George and staying in the running, sources say.

"No one is pulling out," one source told ESPN.com over the weekend.

Added one general manager who has a player on the Team USA squad: "No one [on] this team wants to walk away because that would seem unfair to Paul. If there is any fallout from this injury, it may not be felt until the next time invites [for Team USA] go out."
via NBA players committed to Team USA - ESPN.
It would have been more surprising to see players overreact by leaving their contribution to the country due to a freak accident. Seeing what happened to George up close would rattle anyone. But the players accept that injuries are part of the game, even when they're as severe as what George stuffered. 
Damian Lillard went on record over the weekend to confirm he hadn't even considered the idea. The team has postponed cuts indefinitely, but will eventually have to close the roster to 12. How George's injury will affect those cuts remains to be seen. Adam Silver said Sunday that he doesn't expect major changes from the NBA toward its policies in regards to international competitions.
Fergie: 'I'm a risk taker artistically, but clearly this rendition didn't strike the intended...

Victor Oladipo had a successful R&B album over the offseason and Jamie Foxx is a fan

Klay Thompson makes sure he stands out during All-Star Weekend
There's no shortage of moments to choose from

The Trail Blazers almost traded for Charles Barkley, but when they didn't, it put them in debt...

The self-proclaimed ASG snub Williams may be bitter about Butler requesting to sit out Sun...