Report: Nuggets actively looking to trade Andre Miller
Denver plans to trade the disgruntled veteran point guard after lifting his two-game suspension over the weekend.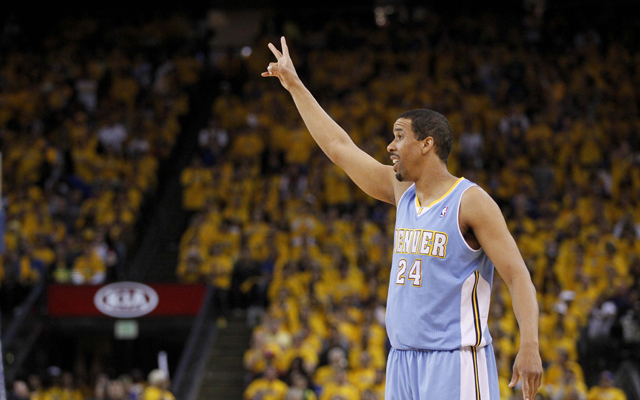 In a move that should come as no surprise to anyone, the Denver Post reports that the Nuggets are actively looking to trade disgruntled point guard Andre Miller. 
The Nuggets are actively trying to trade Miller, according to a league source. If accomplished, it would be the second time Denver traded him. He was traded in 2006 in a package that brought Allen Iverson to the Nuggets.

It has been a dicey few days for Miller, who had harsh words for Nuggets coach Brian Shaw during Wednesday's game against Philadelphia. Miller was initially suspended, but then the suspension was rescinded, in part so Miller would be able to continue getting paid during his time off.
via Andre Miller on Denver Nuggets' trading block - The Denver Post.
Miller was suspended last week for that public outburst, which reportedly continued into the locker room. The dispute came after he received a "Did Not Play- Coach's Decision" vs. the Sixers in a home loss, Denver's eighth straight. Without Miller, the team went 2-0 over the weekend after Sunday night's win in Los Angeles where they dropped 137 points on the Lakers. 
The veteran point guard is averaging 5.9 points and 3.3 assists per game this season off the bench. In the past, he's spoken of his belief he is still a starting caliber point guard in the NBA. 
The Nuggets are clearly without a lot of leverage in the situation and no one's going to bust down the door fora 37-year-old point guard with attitude issues. But it's possible Miller could be traded in a salary-saver move, as his salary for next year at just over $4 million is non-guaranteed. A veteran team would appreciate his experience and ability to manage an offense. The best fit would be New York, in need of point guard depth with Raymond Felton and Pablo Prigioni injured, and Beno Udrih constantly under fire from Mike Woodson publicly. 
The Nuggets can afford to sell low on Miller, with Ty Lawson and Nate Robinson forming a capable point guard tandem and Evan Fournier capable of playing the position. 
Jeremy Lin is out for the season after only one game

Hayward is expected to make a full recovery, but don't expect to see him on the court this...

Well, Suns fans ... it can only go up from here
Teague no longer plays the game, however, because he's mad about his rating

Our NBA scribes break down what we've learned from the first two nights

Imagine if the Orlando rookie ripped off his warmups and stepped on to the court topless