Report: Nuggets offering Chandler, Faried, Afflalo via trade for Love
Could Denver wind up with the biggest trade target in the NBA in the next week? Reports indicate they're offering multiple starters.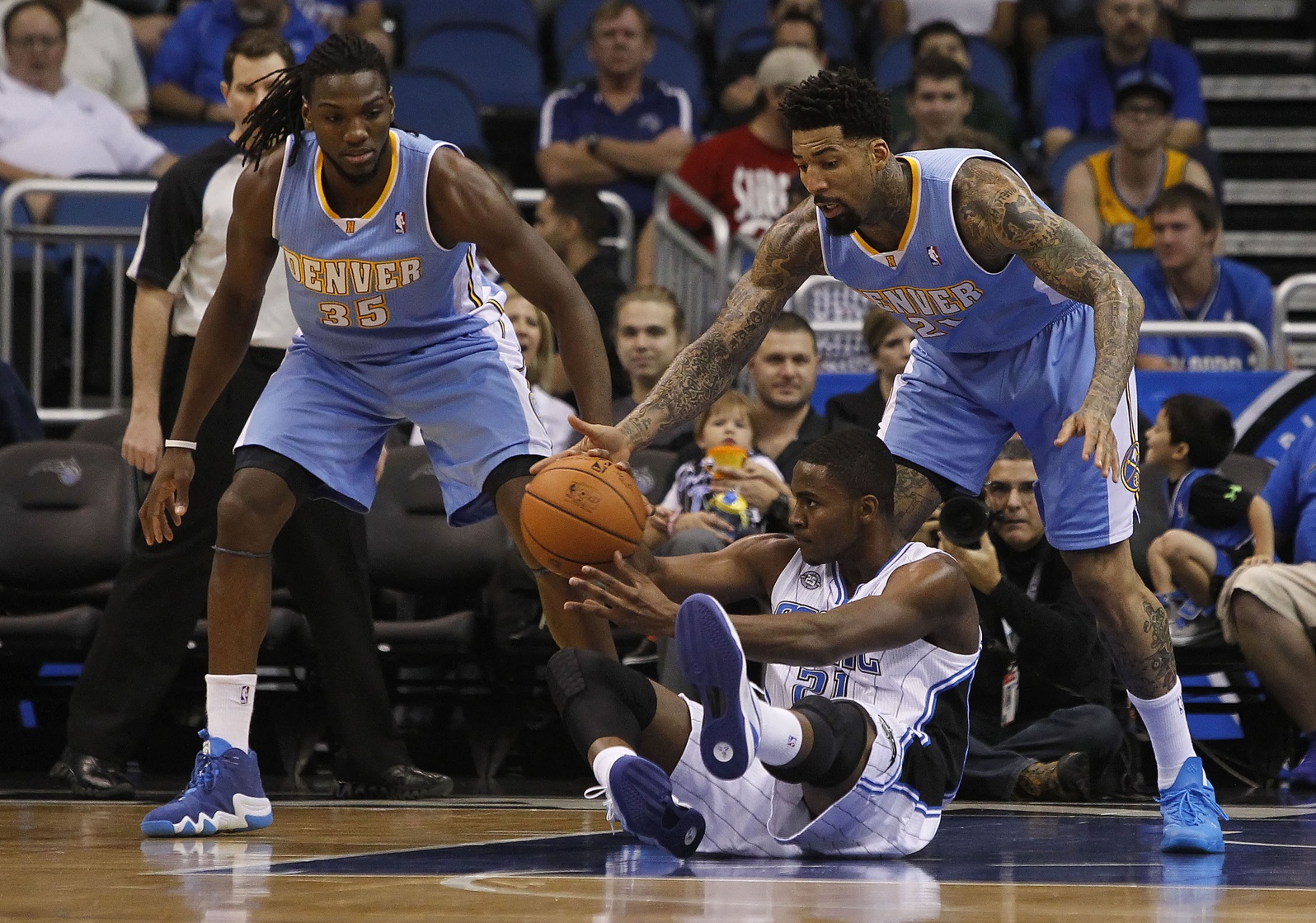 More Offseason Analysis: Coaching changes, news | Free Agency | Draft | Rumors
The Boston Herald reports that after yesterday's news that the Nuggets had entered the Kevin Love sweepstakes, or as I call it, the LoveBoat, their offer is centered around existing veteran talent. 
Sources: in addition to Wilson Chandler and Kenneth Faried, Denver offering Minnesota a player they would acquire (Arron Afflalo) for Love.

— Steve Bulpett (@SteveBHoop) June 19, 2014
Note: Denver's pick (No. 11) NOT included in what I've heard Minnesota can get. Tweets attributing that to me are incorrect.

— Steve Bulpett (@SteveBHoop) June 19, 2014
So this is weird. For starters, the Nuggets would likely have to move the No. 11 to get Afflalo from the Magic, which is ironic, since the Nuggets traded Afflalo and their right to the No. 12 pick to Orlando in the Dwight Howard trade to get Andre Iguodala. 
So presumably, the Nuggets would send No. 11 (which they're pretty well known to be looking to trade) for Afflalo, then send those three players to Minnesota for Kevin Love. 
Wilson Chandler, Kenneth Faried and Arron Afflalo for Kevin Love? That sounds better than the plethora of picks that Boston is offering, or the combination of quality veterans and picks the Bulls have on the table? The Wolves would then, barring more moves, start Ricky Rubio, Afflalo, Chandler, Faried and Nikola Pekovic. That roster looks a lot like the 2012 Nuggets. But then, that team made the playoffs. 
There is a more likely scenario here. Someone is feeding information as a smokescreen to either raise or lower Love's value. It's interesting that a Boston outlet is reporting that the Celtics don't have the best package, which leaves you to wonder if the Celtics are pushing the idea that they're out of it to lower attention on themselves. Otherwise, the Wolves may be leveraging the Nuggets' offer to get better offers from teams like Golden State and Chicago. 
Either way, the offers keep going up for Love with a week left until the draft, when he's expected to be traded. 
Word got back to Irving that the team was discussing options, and he didn't like it one bi...

An ongoing investigation continues to reveal details about the Mavericks' workplace

Larry Hartstein has his finger on the pulse of Kings basketball and just released a play for...
One reported proposal has seeds 7-10 playing for the final two spots in each conference

The longtime Maverick says he's disappointed by all the negative news surrounding his beloved...

Larry Hartstein has nailed 17 of his last 22 NBA against the spread picks and locked in a play...