Report: Omer Asik asks Rockets to trade him
According to a report, Rockets' center Omer Asik has asked to be traded.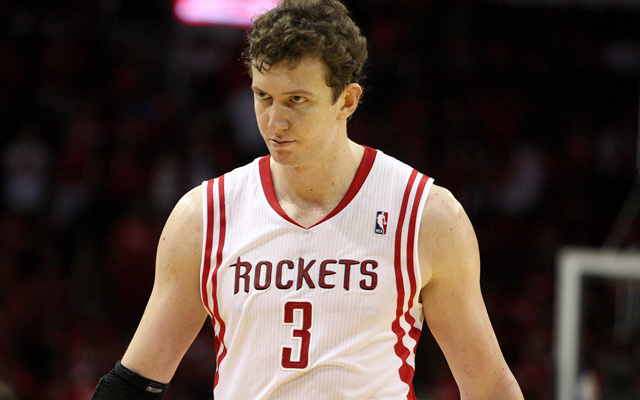 Since Dwight Howard made his decision to head to Houston, it seemed like Omer Asik's days were numbered with the Rockets. 
And having seen his starting job taken and his minutes cut, he's finally asking for a way out. 
According to the Houston Chronicle, Asik has formally requested that the Rockets trade him.
The Rockets have no trade involving Asik in the works, with one individual saying a deal is more likely in months than in days.

Asik declined comment, referring questions to his agent, Andy Miller. Miller also would not comment on any trade request.

"I would say the situation is very frustrating right now and we're trying to work through it," Miller said.  "For Omer, the objective has always been to continue to develop and grow as a player. That's why we came to Houston in the first place. If that objective can't be met, if we can't get the right platform to grow and contribute as a player, it's certainly frustrating."
Asik played only four minutes against the 76ers on Wednesday, an overtime loss. He started every game for them last season and was an integral part in the team that pushed the Thunder to six games in the opening round. 
But with Howard's presence and Kevin McHale's preference to play small, there just hasn't been much room for him on the floor. 
When Howard signed with the Rockets this summer, there were rumblings Asik would ask out, with a rumored deal involving him going to New Orleans for Ryan Anderson. 
Asik is making $8.3 million this season and with the Rockets over the cap, they would need to either match salaries with another team, or trade with someone under the cap to create a trade exception. 
Asik, 27, is averaging just 5.6 points and 8.1 rebounds this season in 22.1 minutes.
Cavs star chose to be very secretive when talking to Lakers rookie after Thursday's game

New York announced Porzingis would not return shortly after star forward left game

Teletovic missed the final three months of 2014-15 season with Nets recovering from same i...
Keep it right here for all of the news, notes, scores and highlights from around the leagu...

The NBA's City edition Nike jerseys are bold and very different

The Wolves may be smoke and mirrors, but the Pacers have the look of a team that can hang in...