Report: Otto Porter a lock to be top-three pick in NBA Draft
Otto Porter will reportedly not slip past No. 3 in the NBA Draft. The Wizards are the most likely landing spot for the 6-foot-9 forward.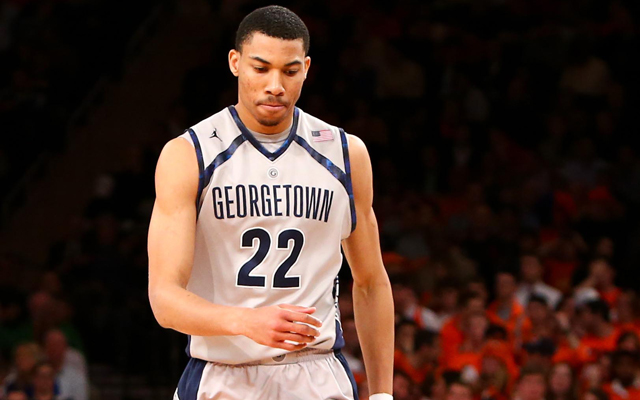 Georgetown forward Otto Porter will not work out for any teams outside of the Cavaliers, Wizards or Magic as his agent feels he's certain to go in the top three of the NBA Draft later this month. The Charlotte Observer reports the same is being assumed by NBA sources: 
Agent David Falk confirms Porter will work out only for the teams with the top three picks: Cleveland, Orlando and Washington. That means Falk, who is Washington-based, feels strongly that Porter can go no later than the Wizards' No. 3 pick. I'd heard as much from various NBA sources.
Porter has shot up the ranks in an unstable draft, with the Wizards the most likely landing spot for the forward at No. 3. The Wizards have been searching for depth and stability there for so long, after Jan Vesely was a complete disaster. Porter's Georgetown connection only makes it easier to take him third. 
There has been talk that Cleveland is high on Porter as well, however, and that could jam up Washington's plan. At 6-foot-9 with a 7-1 1/2 foot wingspan, Porter is considered disruptive defensively with a good skill set, but without explosive athleticism. The question is, do you like maybe the best "3s and D" guy in the draft enough to draft him third, knowing he may likely never reach star level?
Durant apologized for a few tweets in which he criticized OKC and his former coach Billy D...

Lue does not expect the Cavs' big trade to affect the team's starting frontcourt ... at least...

Dwight Howard wants to be a farmer in his future and retire with his donkeys
K.D. is still battling online critics, while the new Celtics guard is openly disregarding LeBron...

Collins has been working as a broadcaster, and previously coached the Bulls from 1986-89

Before accounting for revenue-sharing payouts, 14 of league's 30 teams reportedly lost money...