Report: Pacers make Evan Turner unrestricted free agent
Indiana decides not to extend the qualifying offer to former 76er forward, making him available to all teams after trading Danny Granger for him.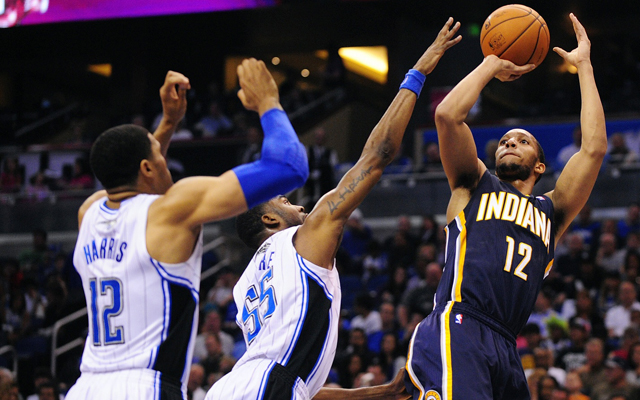 More Offseason Analysis: Coaching changes, news | Free Agency | Draft | Rumors
The Indiana Pacers may wind up getting nothing at all for former franchise star Danny Granger. The Pacers traded Granger to the 76ers at the deadline for former No. 2 overall pick Evan Turner. Granger was subsequently waived by the Sixers and signed by the Clippers. Granger will be a free agent starting Tuesday. 
As will Evan Turner. USA Today reports that the Pacers declined to offer Turner the qualifying offer, meaning Turner will be an unrestricted free agent. 
The Indiana Pacers, who acquired Turner from the Philadelphia 76ers in a trade during last season, will not extend a qualifying offer of $8.7 million on the final year of his rookie deal, two people familiar with Indiana's decision told USA TODAY Sports.

The people requested anonymity because they were not authorized to speak publicly until the Pacers made the news official.

Turner has the ability to score, and he is also a strong rebounding guard and capable passer. In the right situation, he can be an asset, and there will be interest in him. Expect teams to start making offers when the top-tier free agents make their choices.

This gives Turner a chance at a fresh start after an uneven time in Philadelphia and a forgetful three-month stint with the Pacers.
via Pacers let Evan Turner become unrestricted free agent.
Turner averaged 7.1 points, 3.2 rebounds, and 2.4 assists last season with the Pacers in 27 games. He has struggled in every phase of the game, never finding a consistent shot or developing as a defender. His limited athleticism complicates this further. The Pacers were outscored by seven points per 100 possessions last year with Turner on the court.
Turner honestly presents an interesting test case for the new CBA and how the market works now. Turner is still young enough to convince a team to take a chance on him, and has a skillset that features some promise. But his lack of upside and production should prevent any major deal for him. How the market responds to Turner will show how teams have learned from past mistakes. The answer to that usually is "not at all." We'll see who "the Villain" catches on with.
The Raptors will try to continue their run of dominance.

The Rockets are still the NBA's hottest team, but don't sleep on the Spurs now that Leonard...

Kevin Garnett has no interest in working with Glen Taylor, but he'd gladly buy the Timberwolves...
LaVar Ball formed a pop up shop in New York to sell Big Baller Brand merchandise. The results...

The Cavaliers players took a stand against bullying on social media

The Rockets are gunning for their 10th consecutive win