Report: Pacers to apply for $5.3 million disabled player exception
With Paul George out for the season, Indiana should be able to add another player on a one-year contract.
• 1 min read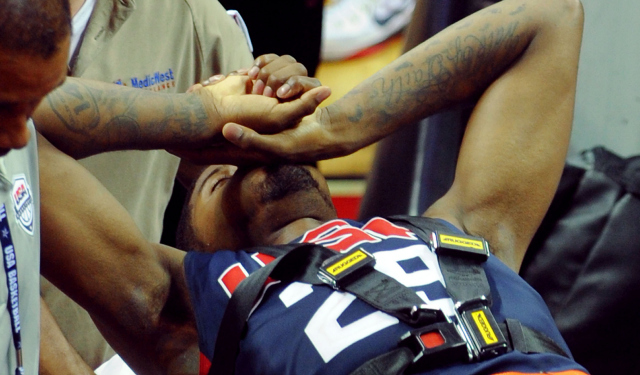 Offseason: Free Agency | Latest from Ken Berger | Rumors
The Indiana Pacers will apply for a disabled player exception, according to David Aldridge of NBA.com. When a player is sidelined for a season, his team is able to sign a free agent to a one-year contract worth 50 percent of that player's salary or the amount of the non-taxpayer mid-level exception, whichever is less. In the case of Paul George, that's the latter, which means $5.3 million.
The Pacers could use that to sign Shawn Marion, for example, and they're reportedly chasing him. The question, though, is how much of that $5.3 million they'll be willing to use. Unless they work out a salary-clearing trade, they are only $1.6 million away from the luxury-tax line, per NBA.com's John Schuhmann. Indiana is loathe to go into the tax, and it doesn't make a ton of sense to do so in pursuit of a bottom-rung playoff spot in the East.
George's gruesome injury undoubtedly set the franchise back, and it's going to be hard for the Pacers to recover right away. The disabled player exception does give them a bit more flexibility, though, so it was always logical that they'd apply for it.
Thomas took to Twitter to let the Celtics know he doesn't want to ruin Pierce's night

The Hall of Famer was a seven-time All-Star with the Celtics, and was MVP of the 1976 Fina...

It's rare to see a legit punch in an NBA fight, but this was definitely one of them
We've got all the scores, highlights and news from an NBA Tuesday

The former Slam Dunk Contest champion will take his talents to Tri-State

Do NBA players have look-a-likes from famous paintings? We found out on the new Arts & Culture...