Report: Pacers to sign Rodney Stuckey after Stephenson departure
The Indiana Pacers have reportedly signed Rodney Stuckey to fill the void at guard after Lance Stephenson signed with the Hornets.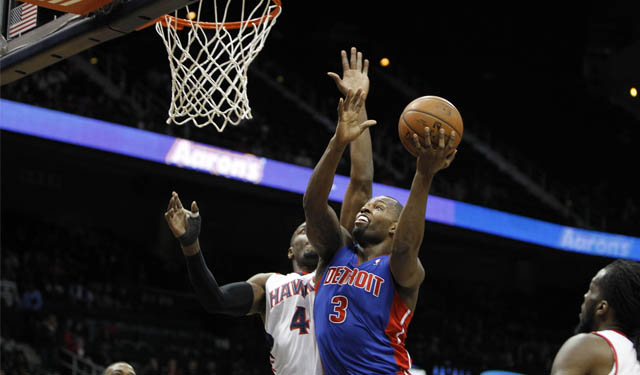 More Offseason Analysis: Coaching changes, news | Free Agency | Draft
Update: It's happening, reportedly. Rodney Stuckey is going to Indiana on a one-year deal, according to USA Today's Sam Amick.
---
With Lance Stephenson signing with the Charlotte Hornets and the Evan Turner experiment ending up as a disaster last season, the Indiana Pacers now have a huge hole to fill in their backcourt. Stephenson was a huge part of the team's attack on both ends of the floor and with the East being so wide-open with the change of the landscape following LeBron's decision, the Pacers can't squander a potential opportunity here. They're looking toward a former Detroit Pistons' guard to fill that void.
Marc Stein of ESPN.com is reporting the Pacers are expressing interest in guard Rodney Stuckey to join George Hill in a suddenly thin backcourt. Stuckey has spent all seven seasons of his career so far with the Pistons, but with the new direction the team is taking behind Stan Van Gundy, the guard from Washington State has been made expendable.
Also hearing Pacers are expressing serious interest in Rodney Stuckey to fill backcourt void created by Lance Stephenson's move to Charlotte

— Marc Stein (@ESPNSteinLine) July 16, 2014
Stuckey primarily came off the bench for the Pistons last season, playing in 73 games but only starting five of them. He was their Sixth Man scorer who averaged 13.9 points in 26.7 minutes of action. He's a horrible 3-point shooter, making only 28.6 of his attempts in his career, but he's been a solid scorer outside of that. He'd be filling the void left by Stephenson joining the Hornets, although he'd be a much different type of player. Stephenson was much more of a playmaker last season than Stuckey typically is, and he's a very versatile defender.
Oklahoma City has reportedly offered the MVP a five-year extension worth over $200 million

The big man was a big part of the Warriors' championship run last season

The Cavs jokes were out in full force after Golden State reportedly agreed to sign Antonius...
New York seems to be at the top of Irving's list of preferred destinations

Is it just a normal workout, or is LeBron continuing his recruiting efforts?

Chris Bosh answered on the spot about the LeBron James and Kyrie Irving situation